This block is broken or missing. You may be missing content or you might need to enable the original module.
Global Sukuk Snapshot: Dec 2020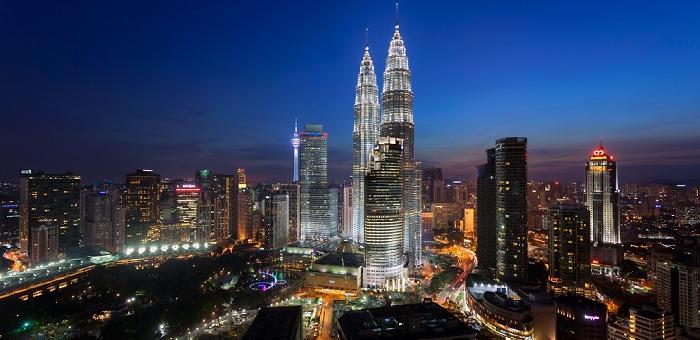 Global Market Commentary
The 10-year United States ("US") Treasuries ("UST") weakened in December 2020, with yields rising to touch 0.98%, albeit remaining below the psychological 1.00% mark amid renewed optimism about US stimulus talks and positive vaccine news. Yields were also pressured higher as investors absorbed $318 billion total new UST supply before the end of the year, which included $38 billion 10-year notes as well as ultra-long $24 billion 20-year and $24 billion 30-year issuances. During the month, the shorter end of the UST yield curve edged lower by 1 to 2 basis points ("bps"), while yields on the longer end rose by 3 to 8bps, causing the curve to shift higher and bear steepen. Month-on-month ("m-o-m"), the benchmark 10-year UST yields closed the month 8bps higher from 0.83% at end-November 2020 to 0.91% at end-December 2020.
Brent crude oil prices continued to recover, posting handsome gains of 8.10% m-o-m from $47.84/barrel ("bbl") at end-November 2020 to $51.72/bbl at end-December2020. Gains were mostly driven by the Organization of the Petroleum Exporting Countries (OPEC)+'s decision on 4 December to increase output by 500,000 barrels per day ("bpd") in January 2021, far less than the earlier scheduled increase of 2 million bpd. Subsequently, OPEC+ ministers will hold monthly meetings to decide on the next course of action. The compromise was made after some member nations were reportedly keen to increase production amid the brighter outlook for oil demand following the rollout of Coronavirus disease 2019 vaccines in several countries, while others were concerned that the ongoing spike in new cases may dent demand in the shorter term.
Sukuk News
The Islamic Development Bank ("IsDB") has raised EUR1 billion ($1.1 billion) from its first-ever green Sukuk issuance. The five-year paper carrying a 0.04% profit rate, which is the lowest profit rate in IsDB history, received very strong demand, according to a press release. Reuters had reported that the 'AAA'-rated financial institution was offering investors 28bps over mid-swaps for the debt sale. The deal attracted several new investors from Europe including Swiss National Bank and many asset managers specializing in green financing whom the IsDB met on a roadshow in Luxembourg this month. Investors also included a couple of multilateral partners including the World Bank.
Touch Mobile has placed a 182-day Wakalah-based Islamic commercial paper worth MYR10 million ($2.4 million), according to an announcement.
Source: : Bloomberg, Islamic Finance News, Reuters (as of 31 December 2020)
Data shown is in US Dollar unless otherwise noted.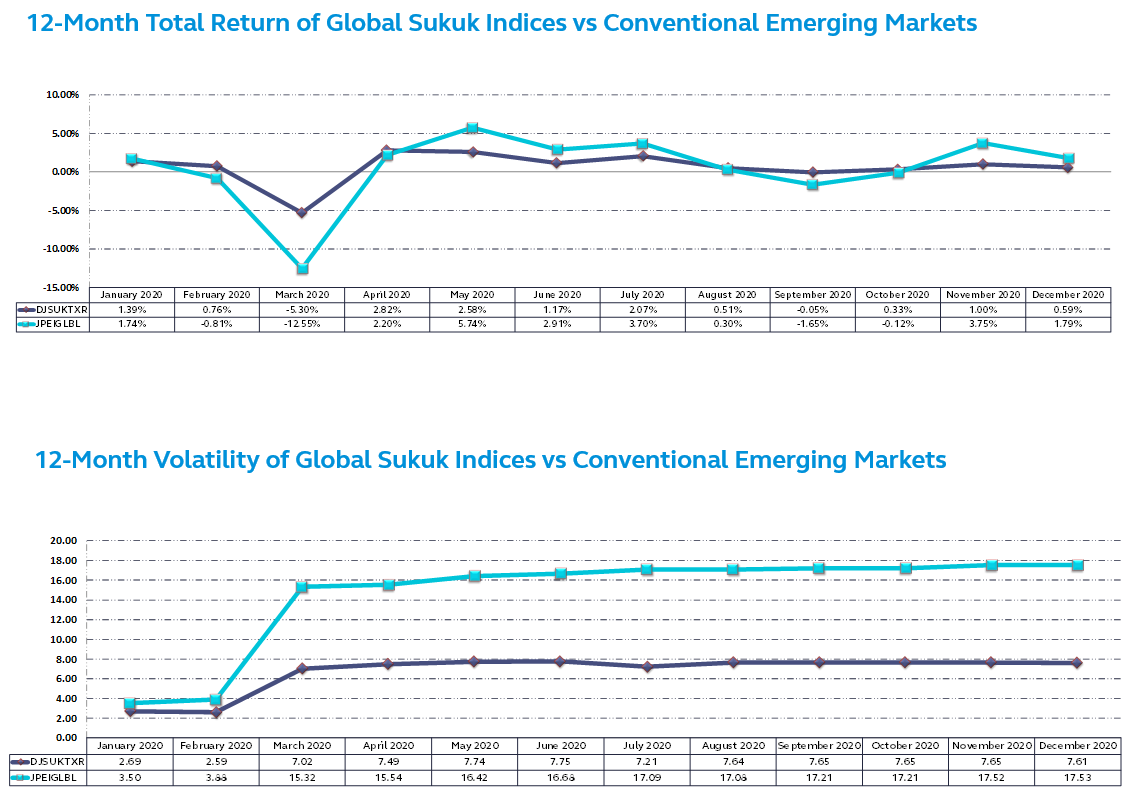 DJSUKTXR | Dow Jones Sukuk Index
JPEIGLBL | JP Morgan EMBI Global Total Return Index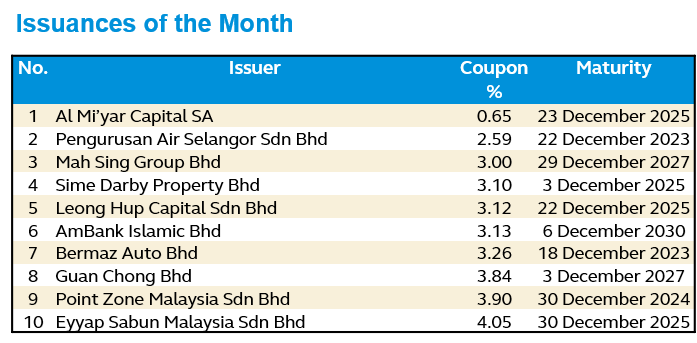 Source: Bloomberg as at 31 December 2020

Disclaimer:
This document is provided to you with information only and should not be construed as an offer or a solicitation of an offer to purchase or subscribe or sell any security, product, service or investment, nor does it constitute investment advice and is not intended for distribution, or used by any person in any country where the investment service referred to is not authorized or which the dissemination of such information is contrary to law and regulation of the country. This document is meant for sophisticated investors only. All information contained herein is confidential and is provided solely for internal use of intended recipient(s). The information in this document may not be reproduced, distributed or published by any recipient. The information contained herein has been derived from sources believed to be reliable and is current as at the publication date. Neither Principal Islamic Asset Management Sdn Bhd, nor any of its officers, directors or employees accept any liability or responsibility in respect to the information or any recommendation expressed herein as no representation or warranty is made as to its accuracy, completeness or correctness of the information provided. The information in this document is subject to change without notice. Persons wishing to rely upon this information should perform their own independent evaluation of risks and benefits or consult directly with the source of information or obtain professional advice where appropriate. The value of the investment may rise or fall. Past performance is not reflective of future results.