Global Sukuk Snapshot: Jul 2022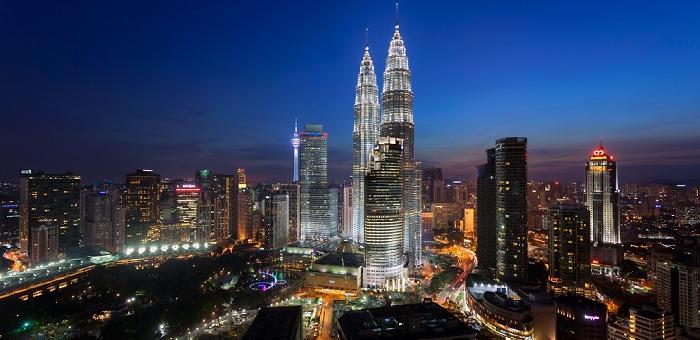 Global Market Commentary
In early July, 10-year US Treasury ("UST") yields continued to trend lower to around 2.80%, buoyed by weaker-than-expected US Institute for Supply Management manufacturing and new orders for June. However, yields subsequently retraced to around 3.10%, after minutes of the US Federal ("Fed") meeting in June highlighted that a deeper, more restrictive monetary policy stance may be needed to fight inflation. In June, the US economy added 372,000 new jobs, outpacing consensus expectations for a 265,000 gain (May revised slightly lower from 390,000 to 384,000), underscoring the strength of the US labor market. 10-year UST yields declined again after US headline Consumer Price Index soared from 8.6% in May to 9.1% in June (consensus 8.8%), marking a fresh 40-year high, amid expectations that the Fed may need to hike rates by a larger quantum, thus dampening growth over the longer-term. Demand for UST remained strong ahead of the US Fed meeting on 27 July, driving 10-year yields lower to around 2.80%. In line with its previous guidance in June, the US Fed raised rates by 75 basis point for the second consecutive meeting, and signaled that another large hike remains on the table in September. 10-year UST yields declined further to close the month at 2.65% after the Fed meeting, as investors reacted positively to Chairman Powell's statement that interest rates have reached a "neutral level", even though he also reiterated that rates need to be pushed higher to bring inflation down. Powell also dismissed concerns that the US economy has entered a recession, citing solid wage growth and a strong labor market. In 2Q22, US Gross Domestic Product ("GDP") shrunk for a second consecutive quarter, from -1.6% in 1Q22 to -0.9% (consensus +0.4%), weighed by a drop in business inventories, which wiped 2% off the headline GDP figure. Personal consumption slowed from 1.8% to 1.0%, but remained positive.
Meanwhile, Brent oil prices weakened from $114.81/barrel ("bbl") to touch $94.50/bbl in mid-July amid concerns over a global slowdown, after data showed that China only grew 0.4% in 2Q22 (consensus 1.2%, 1Q22 4.8%). Sentiment was also dampened by prospects of more oil supply from Saudi Arabia, in anticipation of US President Biden's visit. However, Brent prices rebounded to close the month at $110.01/bbl (4.2% lower month-on-month), as the broad risk market sentiment recovered.

Sukuk News
Pengurusan Air Selangor has listed the third tranche of its Sustainable and Responsible Investment Sukuk Islamic medium-term notes in a four-series issuance worth MYR900 million ($201.97 million) combined, according to filings on the Bond and Sukuk Information Exchange. The four series carry tenors of seven, 10, 15 and 20 years with semi-annual coupons of 4.73%, 4.87%, 5.28% and 5.45% respectively.
Total US dollar-denominated Sukuk issuance has fallen 17.2% quarter-on-quarter in the core markets of the Gulf Cooperation Council, Malaysia, Indonesia, Turkey and Pakistan in the second quarter of 2022 (Q2 2022), Fitch Ratings announced in a statement.
It is unclear if Sukuk supply will recover in the second half of 2022 due to higher oil prices reducing oil-exporting sovereigns' new funding needs. However, intact Islamic investor appetite, upcoming debt maturities, Islamic finance development plans from a number of governments and funding diversification strategies across the sector will support the market in the longer term.
Source: : Bloomberg, Islamic Finance News, Reuters (as of 31 July 2022)
Data shown is in US Dollar unless otherwise noted.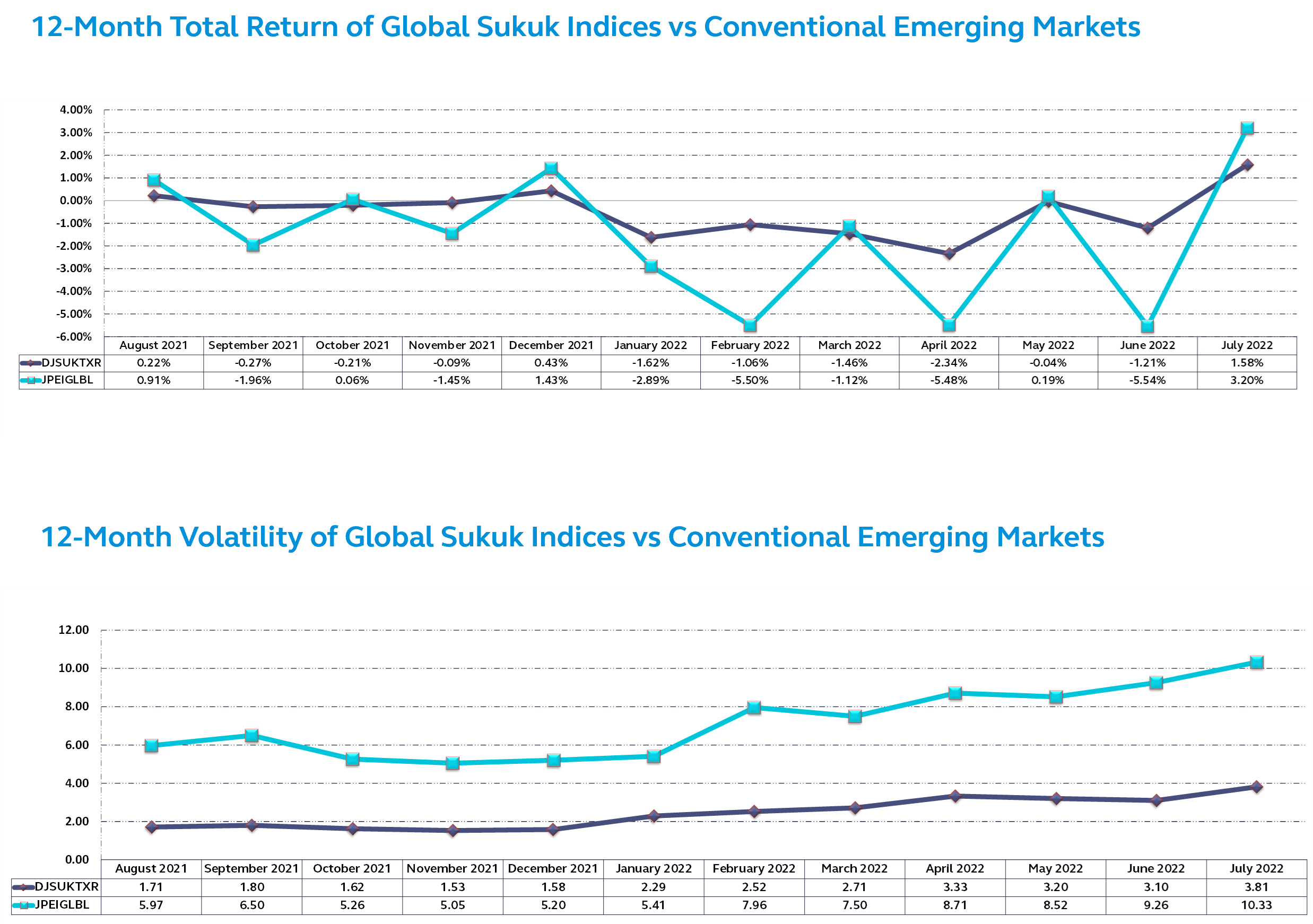 DJSUKTXR | Dow Jones Sukuk Index
JPEIGLBL | JP Morgan EMBI Global Total Return Index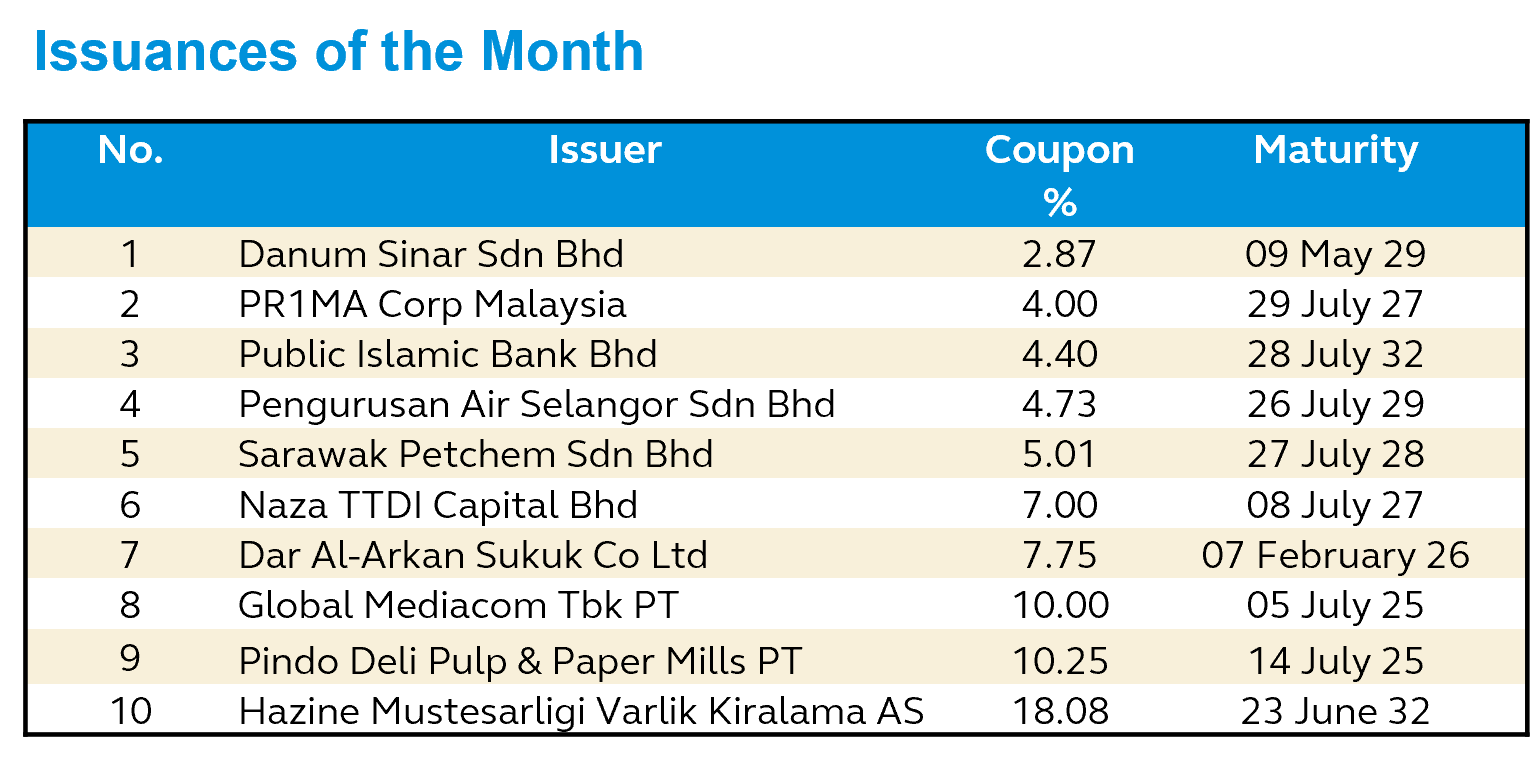 Source: Bloomberg as at 31 July 2022

Disclaimer:
This document is provided to you with information only and should not be construed as an offer or a solicitation of an offer to purchase or subscribe or sell any security, product, service or investment, nor does it constitute investment advice and is not intended for distribution, or used by any person in any country where the investment service referred to is not authorized or which the dissemination of such information is contrary to law and regulation of the country. This document is meant for sophisticated investors only. All information contained herein is confidential and is provided solely for internal use of intended recipient(s). The information in this document may not be reproduced, distributed or published by any recipient. The information contained herein has been derived from sources believed to be reliable and is current as at the publication date. Neither Principal Islamic Asset Management Sdn Bhd, nor any of its officers, directors or employees accept any liability or responsibility in respect to the information or any recommendation expressed herein as no representation or warranty is made as to its accuracy, completeness or correctness of the information provided. The information in this document is subject to change without notice. Persons wishing to rely upon this information should perform their own independent evaluation of risks and benefits or consult directly with the source of information or obtain professional advice where appropriate. The value of the investment may rise or fall. Past performance is not reflective of future results.