Global Sukuk Snapshot: Jun 2021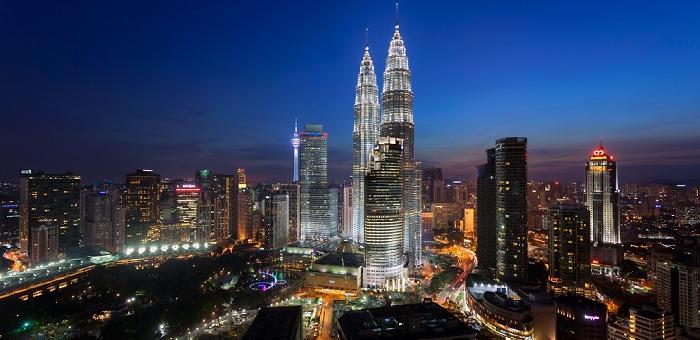 Global Market Commentary
In early June 2021, 10-year United States ("US") Treasury ("UST") yields tumbled from 1.59% at end-May 2021 to 1.43% on 10 June 2021, triggered by weaker than expected US nonfarm payrolls. In May 2021, the US economy added 559,000 jobs, lower than consensus expectations of 675,000, albeit higher than the 278,000 recorded in April 2021. UST yields continued to be pushed lower, even after data showed that headline US inflation soared from 4.2% to 5.0% in May 2021, a 13-year high. Meanwhile, other US economic data were mixed, e.g. retail sales fell from 0.9% in April 2021 to -1.3% in May 2021; while the Institution for Supply Management services soared from 62.7 to 64.0, the highest on record. On 16 June 2021, the US Federal Reserve ("Fed") unexpectedly signaled that it may hike interest rates twice by end-2023, with 13 of 18 officials favoring at least one rate hike by end-2023. In addition, 7 members expected a move as early as 2022, up from 4 members in March. The Fed also upgraded its inflation forecast for 2021 by 1.0% from 2.4% to 3.4%; and 0.1% for 2022 and 2023 to 2.1% and 2.2% respectively. 10-year UST yields initially jumped following the announcement, but subsequently tumbled to touch 1.35% on 21 June 2021 as investors repriced expectations for growth and inflation moving forward. Nonetheless, 10-year UST yields subsequently normalized to around 1.50%, before closing the month at 1.47%, 12 basis points ("bps") lower month-on-month ("m-o-m"). In comparison, the shorter 1-5 year UST yields rose by 2-16bps m-o-m, as investors priced in potential future rate hikes.
Meanwhile, Brent crude oil prices continued to trend higher in June, as the reopening theme gained momentum especially in the US and parts of Europe amid the rapid pace of vaccination. On 1 June 2021, the Organization of the Petroleum Exporting Countries Plus announced that it will keep to its schedule of restoring oil production by 450,000 barrel per day ("bpd") in July, following the increase of 350,000 bpd each in May and June 2021. This signals confidence over the rebound in global oil consumption, with Saudi Arabia reportedly raising July 2021 pricing for all oil grades to Asian customers. Brent prices were also buoyed by news that latest talks between world powers and Iran to revive a nuclear deal ended without an agreement, therefore alleviating concerns of additional supply from Iran. During the month, Brent crude oil prices marched higher from $69.46/barrel ("bbl") at end-May to touch $76.60/bbl on 28 June 2021, before closing the month slightly lower at $75.13/bbl (m-o-m +8.2%).
Sukuk News
ACWA Power has raised SAR2.8 billion ($745.63 million) through a seven-year senior, unsecured floating Sukuk facility under the Mudarabah–Murabahah structure, a press release said. The Islamic paper — the company's first — was oversubscribed 1.8 times and is pegged at 100bps per annum + SAIBOR, the lowest spread secured in the Saudi capital markets by a corporate or bank issuer since 2017.
Sapura TMC, a wholly owned subsidiary of Sapura Energy, has upsized its multicurrency Sukuk program to MYR10 billion ($2.4 billion) from MYR7 billion ($1.68 billion), a bourse filing confirmed. Proceeds raised from the issuance will be utilized to refinance Sapura TMC's existing multicurrency conventional facilities obtained in March 2021 or to fund the group's capital expenditure, expansion and working capital requirements.
Source: : Bloomberg, Islamic Finance News, Reuters (as of 30 June 2021)
Data shown is in US Dollar unless otherwise noted.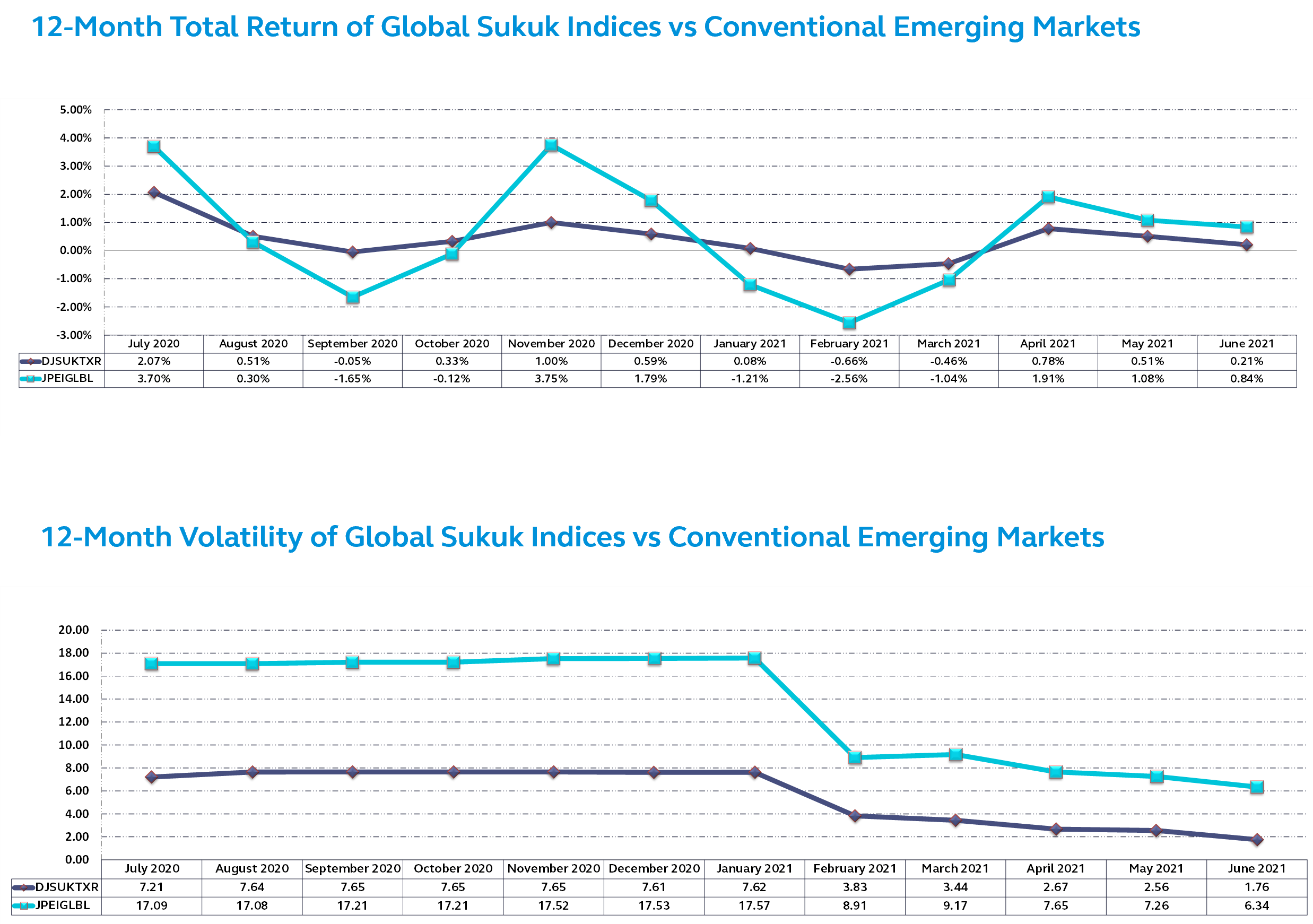 DJSUKTXR | Dow Jones Sukuk Index
JPEIGLBL | JP Morgan EMBI Global Total Return Index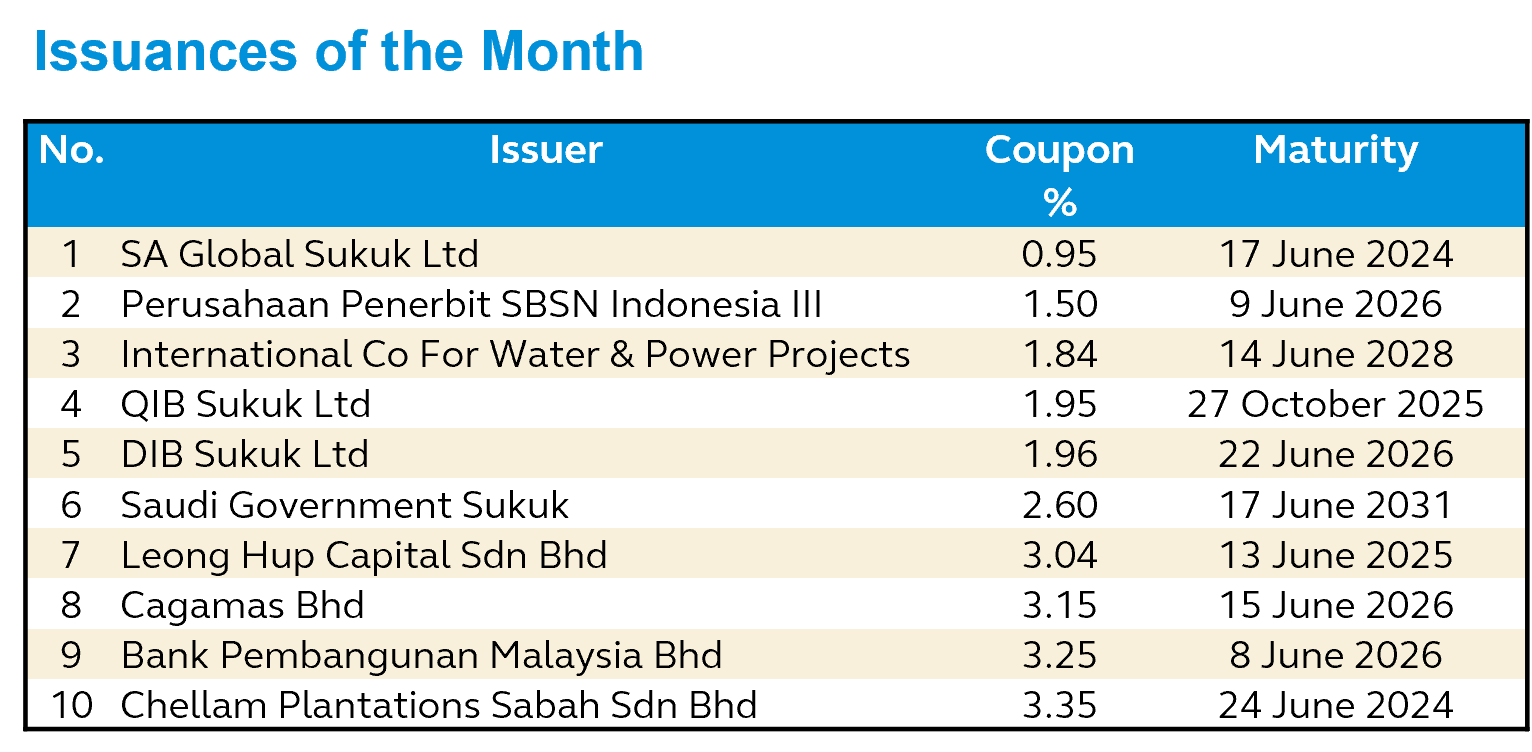 Source: Bloomberg as at 30 June 2021

Disclaimer:
This document is provided to you with information only and should not be construed as an offer or a solicitation of an offer to purchase or subscribe or sell any security, product, service or investment, nor does it constitute investment advice and is not intended for distribution, or used by any person in any country where the investment service referred to is not authorized or which the dissemination of such information is contrary to law and regulation of the country. This document is meant for sophisticated investors only. All information contained herein is confidential and is provided solely for internal use of intended recipient(s). The information in this document may not be reproduced, distributed or published by any recipient. The information contained herein has been derived from sources believed to be reliable and is current as at the publication date. Neither Principal Islamic Asset Management Sdn Bhd, nor any of its officers, directors or employees accept any liability or responsibility in respect to the information or any recommendation expressed herein as no representation or warranty is made as to its accuracy, completeness or correctness of the information provided. The information in this document is subject to change without notice. Persons wishing to rely upon this information should perform their own independent evaluation of risks and benefits or consult directly with the source of information or obtain professional advice where appropriate. The value of the investment may rise or fall. Past performance is not reflective of future results.