This block is broken or missing. You may be missing content or you might need to enable the original module.
Global Sukuk Snapshot: Apr 2020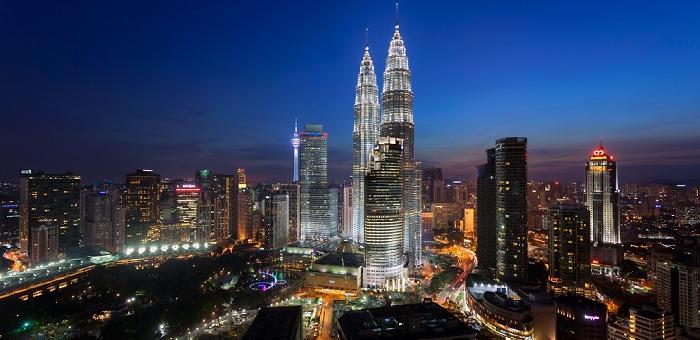 Global Market Commentary
After a volatile month in March 2020, United States ("US") Treasury ("UST") yields were relatively stable in April 2020, with the 10-year notes trading within a narrow band of 0.53%-0.77% amid lingering concerns over the Coronavirus disease 2019 crisis. In its latest World Economic Outlook report, the International Monetary Fund offered a somber assessment of global growth for 2020, as it projects the Great Lockdown to be the worst recession since the Great Depression in 1930s. UST yields were also buoyed by the US Federal Reserve ("Fed")'s ongoing fixed income purchase program, which amounted to over $1 trillion purchases of USTs since the emergency plan began in March 2020. On 9 April 2020, the US Fed announced that it was further expanding its fixed income purchase program to include up to $2.3 trillion in loans to aid small and mid-sized businesses, state and local governments, as well as fund the purchases of eligible below-investment grade fixed incomes. Month-on-month, UST yields edged lower by 1-5 basis points across the board led by the shorter tenures, causing the curve to shift slightly lower and bull steepened.
During the month, new fixed incomes issued by Gulf Cooperation Council ("GCC") governments and Asian entities received overwhelming demand, boosting sentiment in Global Sukuk market. Against a challenging backdrop of lower oil prices and prospects of a recession, three GCC governments i.e. Kingdom of Saudi Arabia, Emirate of Abu Dhabi and State of Qatar successfully printed jumbo deals in the international fixed income market. The three sovereigns collectively issued $24 billion, and commanded overwhelming demand of a staggering $143 billion in total, over a span of 7 days: Saudi's $7 billion fixed income issuance with 5, 10 and 40-year maturities attracted total orderbook of $54 billion (7.7 times oversubscription rate), while Qatar's $10 billion 5, 10 and 30-year fixed income issuance and Abu Dhabi's $7 billion 5, 10 and 30-year fixed income offering garnered 4.5 times and 6.4 times oversubscription rate respectively. Similarly, Malaysia's national oil producer, Petronas' $6 billion fixed income issuance was oversubscribed by 5.9 times. The Indonesian government also joined the fray with a $4.3 billion pandemic fixed income issuance. Proceeds from these fixed income issuances are intended to part-finance multiple stimulus packages introduced by the respective governments to soften the impact of the pandemic on their economies and the people at large. The high oversubscription rate for the primary issuances signals very strong demand for quality issuers in the GCC and Asia region, with 70.00%-80.00% reportedly taken up by American and European investors.
Sukuk News
The sukuk market will likely to see a significant reduction in issuance volumes in 2020 as lower oil prices and the novel coronavirus hurt key sectors in core Islamic finance countries, S&P Global Ratings reported. S&P expected 2020 sukuk issuance to total $100 billion at best, down almost 40.00% from 2019, on the back of muted economic performance in the market's core countries as they take measures to combat the spread of the coronavirus.
Malaysia's Securities Commission said that it will ease fundraising rules for listed companies, although it acknowledged that some firms may hold off on capital raising due to uncertainty over the coronavirus outbreak. The Securities Commission will also liberalise digitisation of investment products, advertising and promotions.
Source: Nasdaq, Reuters (as at 30 April 2020)
Data shown is in US Dollar unless otherwise noted.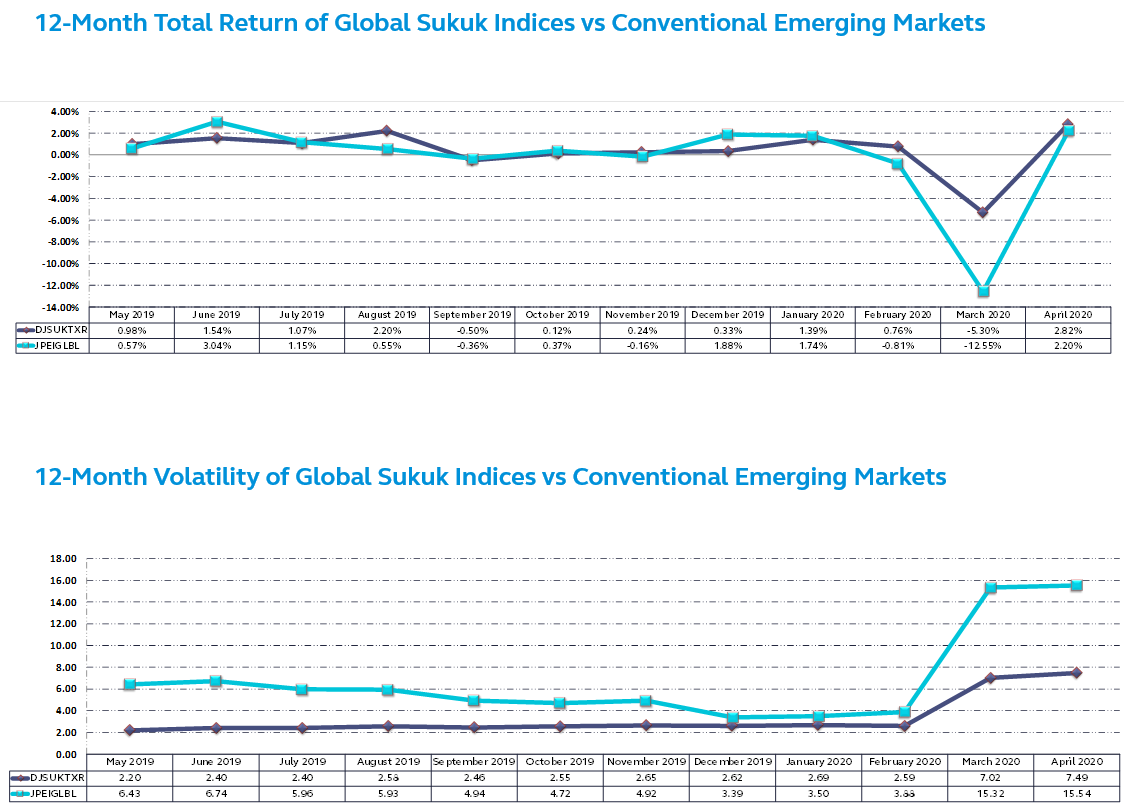 DJSUKTXR | Dow Jones Sukuk Index
JPEIGLBL | JP Morgan EMBI Global Total Return Index
BMSXMTR | Bloomberg Malaysia Sukuk Ex-MYR Index TR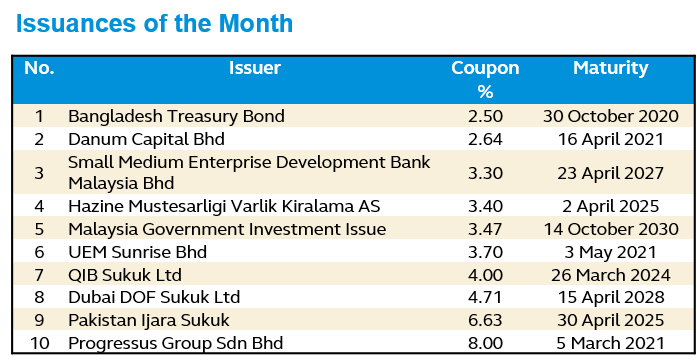 Source: Bloomberg as at 30 April 2020

Disclaimer:
This document is provided to you with information only and should not be construed as an offer or a solicitation of an offer to purchase or subscribe or sell any security, product, service or investment, nor does it constitute investment advice and is not intended for distribution, or used by any person in any country where the investment service referred to is not authorized or which the dissemination of such information is contrary to law and regulation of the country. This document is meant for sophisticated investors only. All information contained herein is confidential and is provided solely for internal use of intended recipient(s). The information in this document may not be reproduced, distributed or published by any recipient. The information contained herein has been derived from sources believed to be reliable and is current as at the publication date. Neither Principal Islamic Asset Management Sdn Bhd, nor any of its officers, directors or employees accept any liability or responsibility in respect to the information or any recommendation expressed herein as no representation or warranty is made as to its accuracy, completeness or correctness of the information provided. The information in this document is subject to change without notice. Persons wishing to rely upon this information should perform their own independent evaluation of risks and benefits or consult directly with the source of information or obtain professional advice where appropriate. The value of the investment may rise or fall. Past performance is not reflective of future results.