Global Sukuk Snapshot: Aug 2021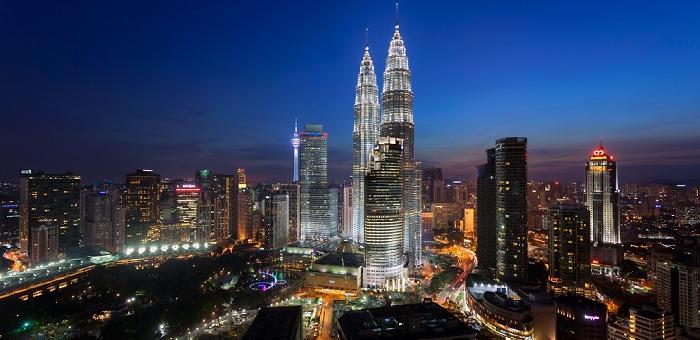 Global Market Commentary
Buying momentum in United States ("US") Treasuries ("UST") continued in early August 2021, driving 10-year US Treasury yields 10 basis points ("bps") lower from 1.22% at end-July 2021 to an intra-day low of 1.12% on 4 August 2021. The positive sentiment was supported by weaker-than-expected US Institute for Supply Management manufacturing, which fell from 60.6 in June to 59.5 (consensus 61.0). However, 10-year US Treasury yields subsequently climbed to touch 1.37% on 12 August 2021, triggered by strong US nonfarm payrolls data. In July 2021, the US economy created 943,000 new jobs (consensus 870,000), marking the biggest monthly increase since August 2020. The number of jobs added in June 2021 was also revised higher from 850,000 to 938,000, pushing the unemployment rate lower from 5.9% in June to 5.4% in July 2021. US Treasury yields were also pressured higher after minutes of the Federal Reserve ("Fed") meeting in July 2021 showed that most policymakers were in favor to start tapering asset purchases by the end of the year. However, 10-year US Treasury yields tumbled again to around 1.22% in mid-August 2021, after US consumer sentiment unexpectedly plunged from 81.2 to 70.3 in August 2021, the lowest since December 2011 amid growing concerns about the economy, rising inflation and the recent surge in Covid Delta variant. Towards month-end, US Treasury yields climbed to around 1.34%, before closing the month at 1.31%, 9bps higher month-on-month ("m-o-m").
At the Jackson Hole symposium on 27 August 2021, Fed Chairman Powell said the US economic recovery has now met the committee's condition of achieving "substantial further progress" for tapering, which may begin before year-end. However, he stressed that the timing and pace of tapering should not be interpreted as a direct signal that the Fed will start to normalize rates, indicating that the committee is not in a rush to remove accommodative policy. Powell also continued to caution that the Delta variant remains a looming threat to the economy. Meanwhile, Brent crude oil prices initially started the month on a weaker note, declining from $76.33/barrel ("bbl") to $65.18/bbl on 20 August 2021 as sentiment was dampened by the rise in Delta variant globally. Nevertheless, prices subsequently rebounded to close the month at $72.96/bbl (m-o-m 4.4%) amid expectations of tighter supplies, as Hurricane Ida forced US refining and oil production in the Gulf of Mexico to shut down.
Sukuk News
The Saudi Ministry of Finance's National Debt Management Center has closed its August 2021 Sukuk offering under the government's domestic Sukuk program at SAR11.36 billion ($3.03 billion), Saudi Press Agency reported. The Sukuk facility was issued in three tranches: a SAR2.51 billion ($668.4 million) tranche maturing in 2029, a SAR4.49 billion ($1.2 billion) tranche maturing in 2033 and a SAR4.37 billion ($1.16 billion) tranche set to mature in 2036.
Prasarana Malaysia has on the 27 August 2021 issued four Islamic medium-term notes — a five-year facility worth MYR500 million ($119.12 million) with a profit rate of 2.98%, a 10-year facility worth MYR200 million ($47.65 million) with a profit rate of 3.56%, a 15-year facility worth MYR600 million ($142.95 million) with a profit rate of 4.11% and a 20-year facility worth MYR400 million ($95.3 million) with a profit rate of 4.37% — structured under the Murabahah concept, according to separate filings on the Bond and Sukuk Information Exchange.
Source: Bloomberg, Islamic Finance News, Reuters (as at 31 August 2021)
Data shown is in US Dollar unless otherwise noted.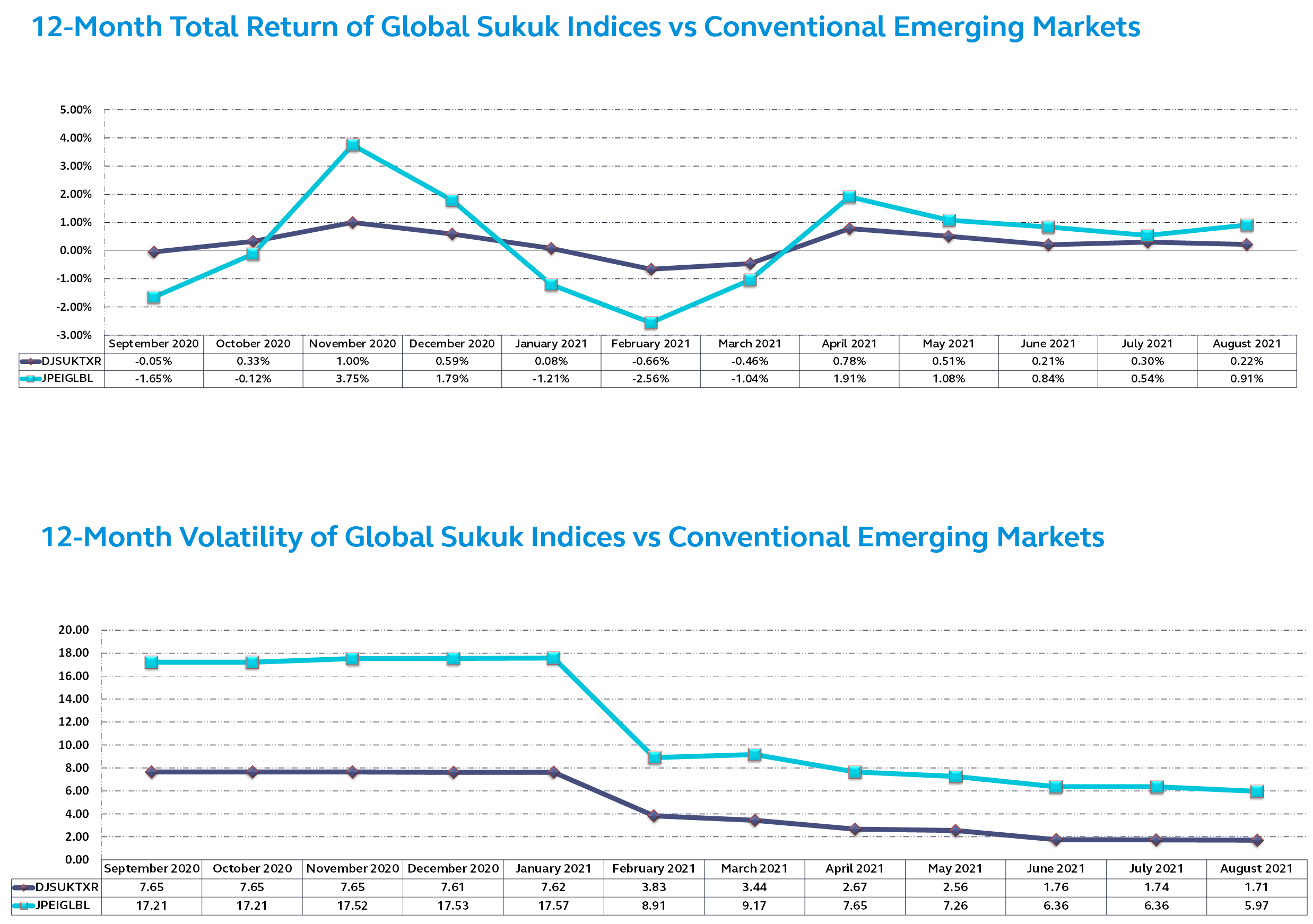 DJSUKTXR | Dow Jones Sukuk Index
JPEIGLBL | JP Morgan EMBI Global Total Return Index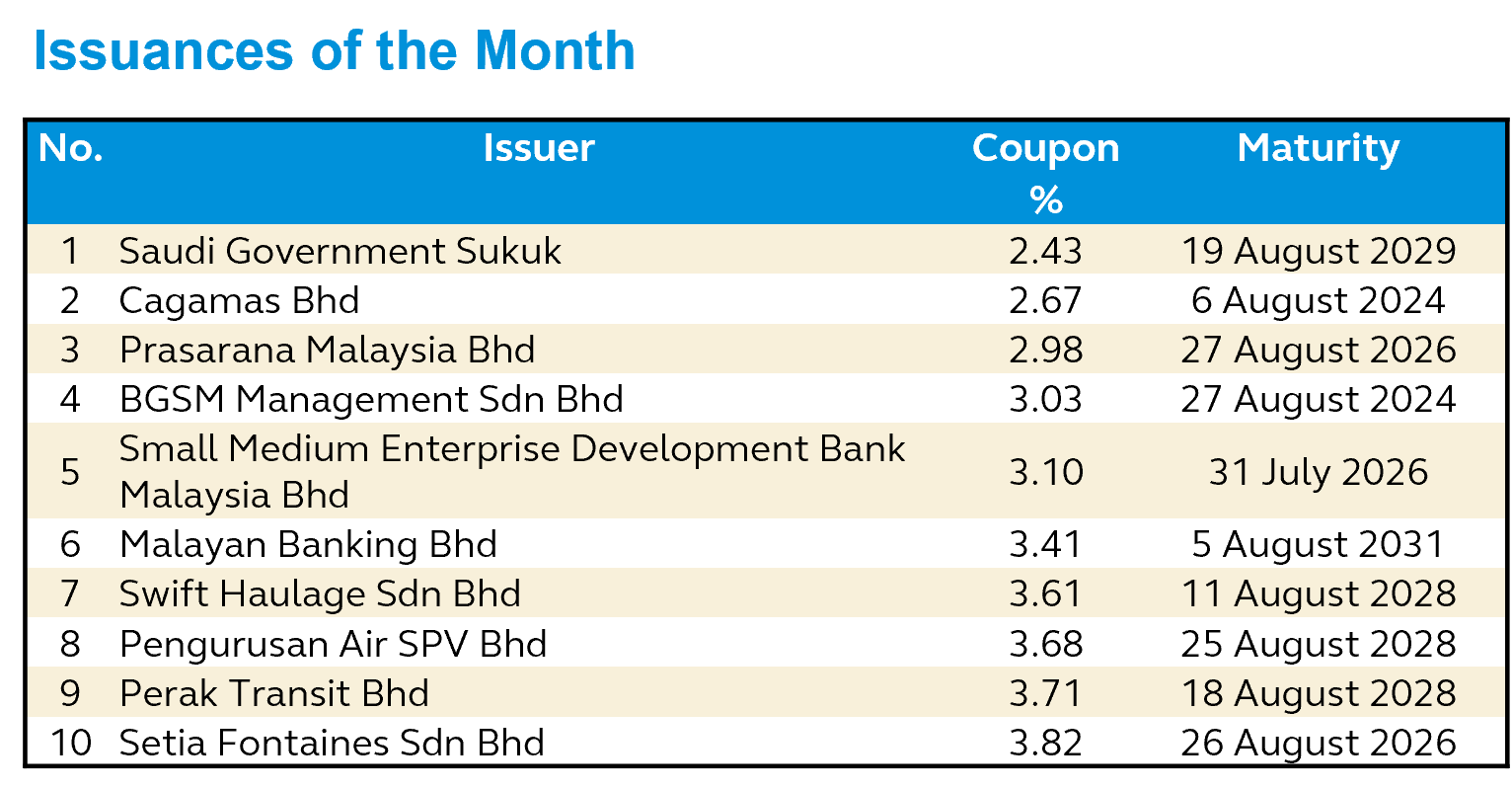 Source: Bloomberg as at 31 August 2021
Disclaimer:
This document is provided to you with information only and should not be construed as an offer or a solicitation of an offer to purchase or subscribe or sell any security, product, service or investment, nor does it constitute investment advice and is not intended for distribution, or used by any person in any country where the investment service referred to is not authorized or which the dissemination of such information is contrary to law and regulation of the country. This document is meant for sophisticated investors only. All information contained herein is confidential and is provided solely for internal use of intended recipient(s). The information in this document may not be reproduced, distributed or published by any recipient. The information contained herein has been derived from sources believed to be reliable and is current as at the publication date. Neither Principal Islamic Asset Management Sdn Bhd, nor any of its officers, directors or employees accept any liability or responsibility in respect to the information or any recommendation expressed herein as no representation or warranty is made as to its accuracy, completeness or correctness of the information provided. The information in this document is subject to change without notice. Persons wishing to rely upon this information should perform their own independent evaluation of risks and benefits or consult directly with the source of information or obtain professional advice where appropriate. The value of the investment may rise or fall. Past performance is not reflective of future results.