Global Sukuk Snapshot: Feb 2021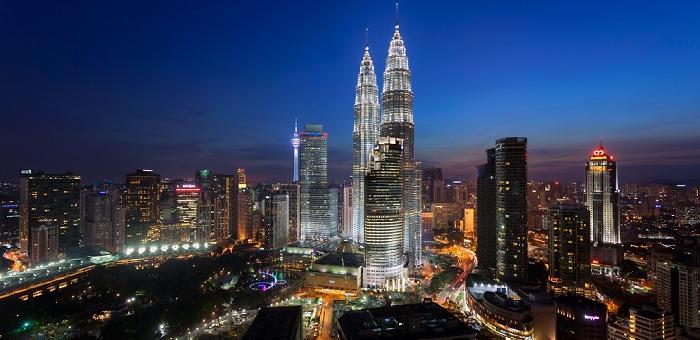 Global Market Commentary
The United States ("US") Treasury ("UST") 10-year yield touched 1.60% mark during the month, the highest level since the pandemic began as investors started pricing in earlier than expected US rate hikes, underpinned by expectations of faster growth and inflation. The selloff in UST was exacerbated by a weak 7-year UST auction on 25 February 2021. However, Powell dismissed the sharp run-up in yields, calling it a "statement of confidence in the economic outlook". During the month, the shorter end of the UST yield curve edged 1-10 basis points ("bps") higher, while yields on the longer end rose significantly by 30-40bps, causing the curve to shift higher and bear steepened. Month-on-month ("m-o-m"), benchmark 10-year UST yields closed the month 33bps higher from 1.07% at end-January 2021 to 1.40% at end-February 2021.
Brent crude oil prices continued to recover, posting gains of 18.0% m-o-m from $55.89/barrel ("bbl") at end-January 2021 to $65.97/bbl at end-February 2021. Crude oil prices have risen steadily since November 2020 as the rollout of coronavirus vaccines gathers pace globally, and as continued supply curbs from the Organization of the Petroleum Exporting Countries and its allies spur hopes that global stockpiles will continue to slide. Brent crude oil prices rose amidst tightening global supplies and signs of strength in physical markets, underpinned by a brightening outlook for consumption. Sentiment was also buoyed by hopes for a new US stimulus package and a major winter storm in US and Texas, which amplified demand for fuel. The rare deep freeze prompted the state's electric grid operator to impose rotating blackouts, leaving nearly 3 million customers without power, and creating a tighter supply situation that has been absent for most of the pandemic.
Sukuk News
Autoriti Monetari Brunei Darussalam ("AMBD") has priced the 14th issuance of its AMBD Islamic Bills ("I-Bills") at BN$12 million ($8.99 million) with a profit rate of 0.10% and a maturity date set on the 18 February 2021, a press release confirmed. Since its maiden offering on the 22 October 2020, BN$405 million ($303.36 million)-worth of AMBD I-Bills have been issued; total outstanding as at the 4 February 2021 stood at BN$32 million ($23.97 million).
Government-owned technology financier Malaysia Debt Ventures ("MDV") is looking to issue a MYR2 billion ($495.23 million) Sukuk facility in the third quarter of 2021 to support its financing program for the next five to seven years, Bernama reported quoting Khairul Azwan Harun, the chairman of MDV. The facility reportedly has already been approved by the Ministry of Finance.
Source: Bloomberg, Islamic Finance News, Reuters (as at 28 February 2021)
Data shown is in US Dollar unless otherwise noted.

DJSUKTXR | Dow Jones Sukuk Index
JPEIGLBL | JP Morgan EMBI Global Total Return Index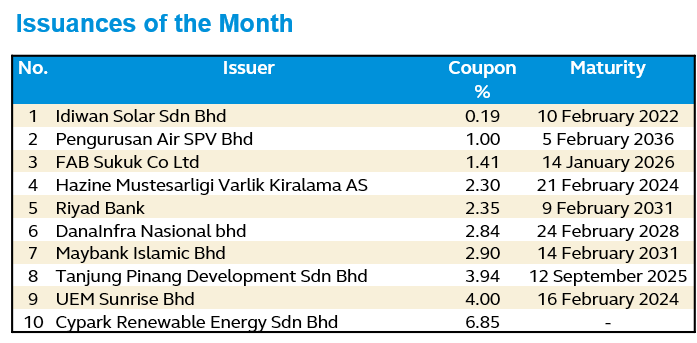 Source: Bloomberg as at 28 February 2021
Disclaimer:
This document is provided to you with information only and should not be construed as an offer or a solicitation of an offer to purchase or subscribe or sell any security, product, service or investment, nor does it constitute investment advice and is not intended for distribution, or used by any person in any country where the investment service referred to is not authorized or which the dissemination of such information is contrary to law and regulation of the country. This document is meant for sophisticated investors only. All information contained herein is confidential and is provided solely for internal use of intended recipient(s). The information in this document may not be reproduced, distributed or published by any recipient. The information contained herein has been derived from sources believed to be reliable and is current as at the publication date. Neither Principal Islamic Asset Management Sdn Bhd, nor any of its officers, directors or employees accept any liability or responsibility in respect to the information or any recommendation expressed herein as no representation or warranty is made as to its accuracy, completeness or correctness of the information provided. The information in this document is subject to change without notice. Persons wishing to rely upon this information should perform their own independent evaluation of risks and benefits or consult directly with the source of information or obtain professional advice where appropriate. The value of the investment may rise or fall. Past performance is not reflective of future results.