Global Sukuk Snapshot: Jan 2021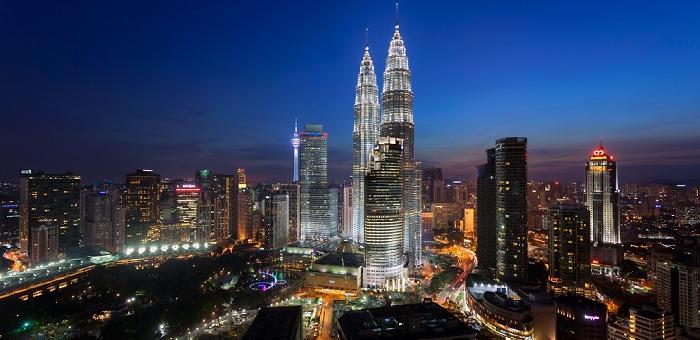 Global Market Commentary
The United States ("US") Treasuries ("UST") market had a weak start to the new year, with 10-year yields breaking the psychological 1.00% mark to touch 1.19%, the highest level since March 2020. This was triggered by the Democratic party's win at the Georgia state senate run-off elections on 5 January 2021, which gave Democrats a simple majority in the US Senate, paving the way for potentially higher fiscal stimulus. Yields were also pressured higher after President Biden unveiled his proposed $1.9 trillion rescue package plan. During the month, the shorter end of the UST yield curve edged lower by 1 to 2 basis points ("bps"), while yields on the longer end rose by 11 to 20bps, causing the curve to shift higher and bear steepen. Month-on-month ("m-o-m"), benchmark 10-year UST yields closed the month 16bps higher from 0.91% at end-December 2020 to 1.07% at end-January 2021.

Meanwhile, Brent crude oil prices continued to recover, posting gains of 8.1% m-o-m from $51.72/barrel ("bbl") at end-December 2020 to $55.89/bbl at end-January 2021. Gains were mostly driven by Saudi's surprise announcement on 5 January 2021 to voluntarily cut output by 1 million barrels per day in February 2021 and March 2021, as part of a deal under which most the Organisation of the Petroleum Exporting Countries+ (which includes other members outside OPEC such as Russia, Kazakhstan and Mexico) ("OPEC+") producers will hold production steady in the face of new coronavirus lockdowns. Following the OPEC+ meeting, Brent crude oil prices continued to extend gains to touch $57.42/bbl on 13 January 2021, the highest level since February 2020, boosted by a weak dollar and bullish signals from Chinese import data. In the second half of the month, Brent crude oil prices traded within a narrow range of $54.5/bbl to $56.5/bbl due to a lack of fresh catalysts, before ending the month at $55.89/bbl.
Sukuk News
First Abu Dhabi Bank ("FAB") has issued a five-year Sukuk facility worth $500 million at 90bps over midswaps through FAB Sukuk Company which was three times oversubscribed, a press release read. The Sukuk facility received strong demand from Islamic and conventional investors in the United Kingdom, Europe, Middle East and Asia, recording a total orderbook of $1.5 billion.
Saudi's National Debt Management Center in a statement announced that its SAR220 billion ($58.59 billion) 2020 financing plan has been completed. The finance ministry also concluded its local Sukuk issuance for the month of December 2020: SAR11.72 billion ($3.12 billion) in bids were received; however, none of these requests have been allocated due to the conclusion of 2020's domestic funding.
Source: : Bloomberg, Islamic Finance News, Reuters (as of 31 January 2021)
Data shown is in US Dollar unless otherwise noted.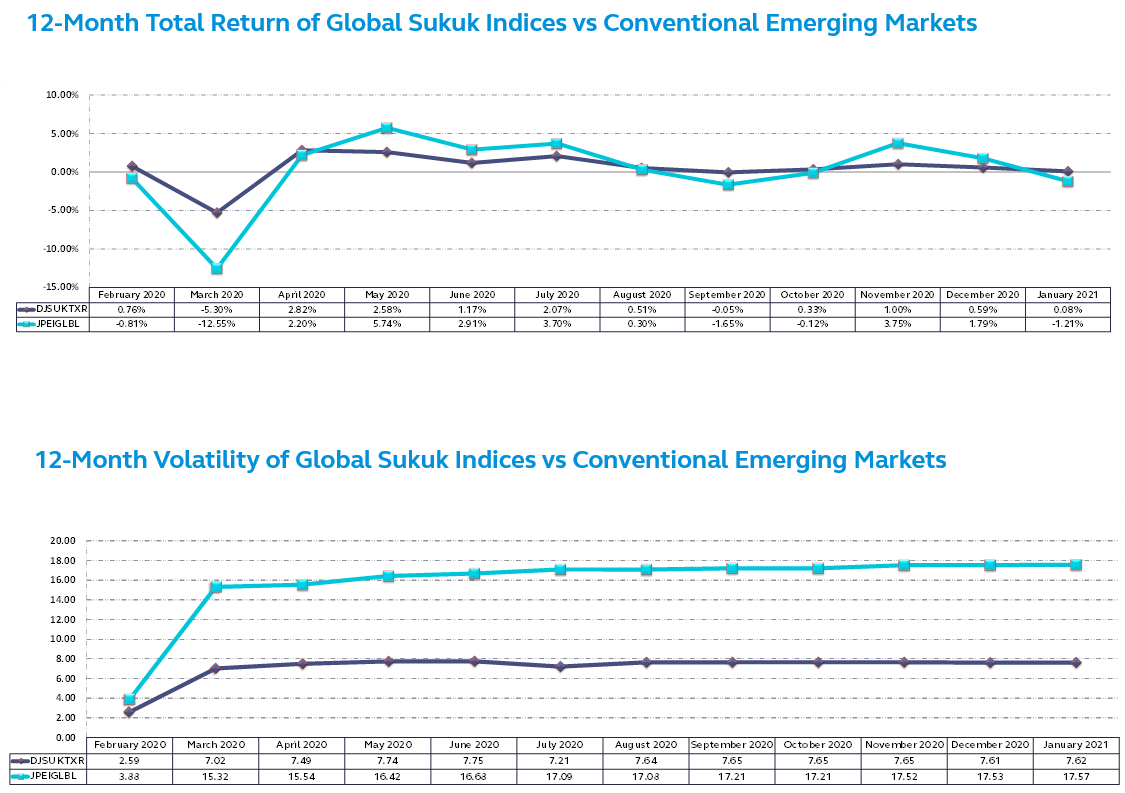 DJSUKTXR | Dow Jones Sukuk Index
JPEIGLBL | JP Morgan EMBI Global Total Return Index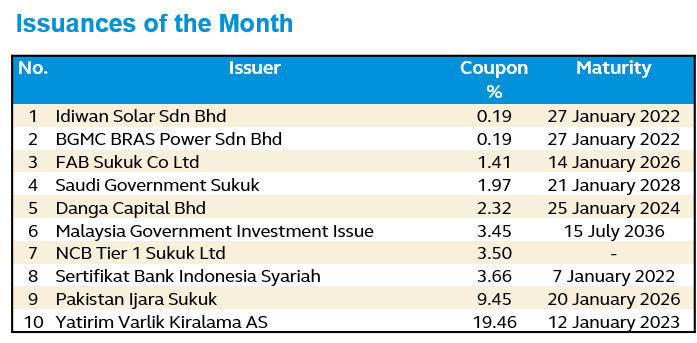 Source: Bloomberg as at 31 January 2021
Disclaimer:
This document is provided to you with information only and should not be construed as an offer or a solicitation of an offer to purchase or subscribe or sell any security, product, service or investment, nor does it constitute investment advice and is not intended for distribution, or used by any person in any country where the investment service referred to is not authorized or which the dissemination of such information is contrary to law and regulation of the country. This document is meant for sophisticated investors only. All information contained herein is confidential and is provided solely for internal use of intended recipient(s). The information in this document may not be reproduced, distributed or published by any recipient. The information contained herein has been derived from sources believed to be reliable and is current as at the publication date. Neither Principal Islamic Asset Management Sdn Bhd, nor any of its officers, directors or employees accept any liability or responsibility in respect to the information or any recommendation expressed herein as no representation or warranty is made as to its accuracy, completeness or correctness of the information provided. The information in this document is subject to change without notice. Persons wishing to rely upon this information should perform their own independent evaluation of risks and benefits or consult directly with the source of information or obtain professional advice where appropriate. The value of the investment may rise or fall. Past performance is not reflective of future results.