Global Sukuk Snapshot: Jul 2021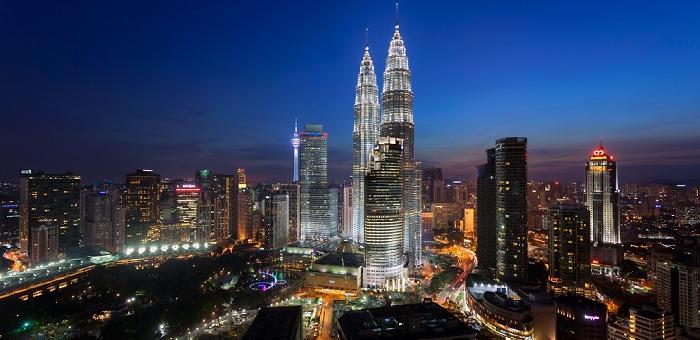 Global Market Commentary
After rallying strongly in June 2021, buying momentum in United States ("US") Treasuries continued in July 2021, driven by concerns over a surge of Covid-19 Delta variant cases globally, increased tensions between the US and China, as well as softer US economic data. In early July 2021, benchmark 10-year US Treasury yields dipped by 18 basis points ("bps") from 1.47% at end-June 2021 to 1.29% on 8 July 2021, triggered by weaker-than-expected US Institute for Supply Management manufacturing data, which fell from 61.2 in May 2021 to 60.6 in June 2021 (consensus 60.9) as logistics challenges, elevated commodities prices and shortages of various supplies continue to pressure manufacturers. Meanwhile, US nonfarm payrolls climbed by 850,000 in June 2021, the most ten months, higher than the 583,000 jobs recorded in May 2021. While the total jobs created was higher than consensus expectations of 720,000, the data indicated that the economy may not be strengthening as quickly as initially anticipated. Subsequently, 10-year US Treasuries pared gains to touch 1.40% on 13 July 2021 following higher than expected US Consumer Price Index (actual 5.4% vs. consensus 4.9%, May 2021 5.0%), before resuming its rally in mid-July 2021. 10-year yields plummeted by 27bps to 1.13% on 20 July 2021, the lowest level since February as Covid-19 cases soared globally, prompting renewed lockdowns in some parts of the world. Towards month-end, yields subsequently normalized to around 1.30%, and traded sideways before closing the month at 1.22%, 25 bps lower month-on-month ("m-o-m") after the US Federal Reserve reiterated that the labor market still has "a ways to go" before "substantial progress" in the economic recovery is achieved. In 2Q21, the US economy grew by an annualized 6.5% quarter-on-quarter, significantly trailing consensus expectations of 8.4%. Growth was driven by an 11.8% increase in personal expenditures but offset by lagging property investments and inventory drawdowns.
Meanwhile, Brent oil prices declined from $75.13/barrel ("bbl") at end-June 2021 to touch an intra-day low of $67.44/bbl on 20 July 2021, before rebounding to close the month at $76.33/bbl (+1.6% m-o-m). On 18 July 2021, the Organization of the Petroleum Exporting Countries Plus announced that it will increase oil production by 400,000 barrel per day from August 2021 to December 2021 and aims to fully phase out cuts by around September 2022. The committee also agreed on new output quotas for several members from May 2022, including the United Arab Emirates, Saudi Arabia, Russia, Kuwait and Iraq.
Sukuk News
The Emirate of Sharjah has tightened price guidance to 3.25% - 3.38% for 10-year US dollar-denominated sukuk after it received more than $2.75 billion in orders, a document showed on Tuesday. The sukuk were tightened from initial price guidance of around 3.50%, according to the document from one of the banks on the deal.
RAM Rating Services Bhd has downgraded the ratings of the MYR345 million Tranche A1 to A4 sukuk under Menara ABS Bhd's MYR1 billion Sukuk Ijarah Programme to "negative" from "stable" on short-term concerns in reaching a resolution on lease negotiations and disposal of the underlying properties by the legal maturity of the sukuk. The rating agency also factored in expectations of weaker credit quality of the underlying properties as a result of Covid-19 after the Telekom Malaysia Bhd master lease expires in January 2023.
Source: : Reuters, The Edge Markets (as of 31 July 2021)
Data shown is in US Dollar unless otherwise noted.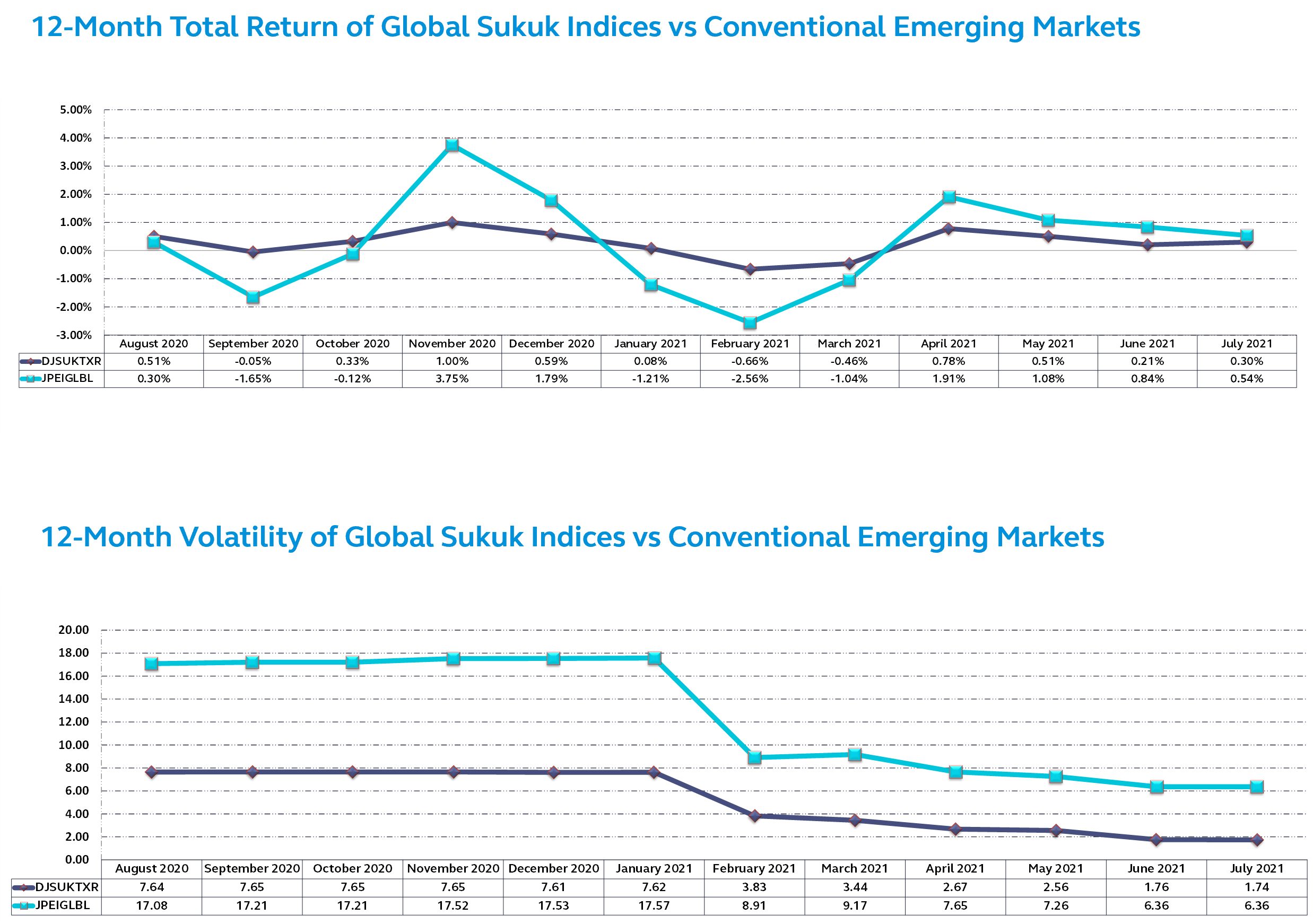 DJSUKTXR | Dow Jones Sukuk Index
JPEIGLBL | JP Morgan EMBI Global Total Return Index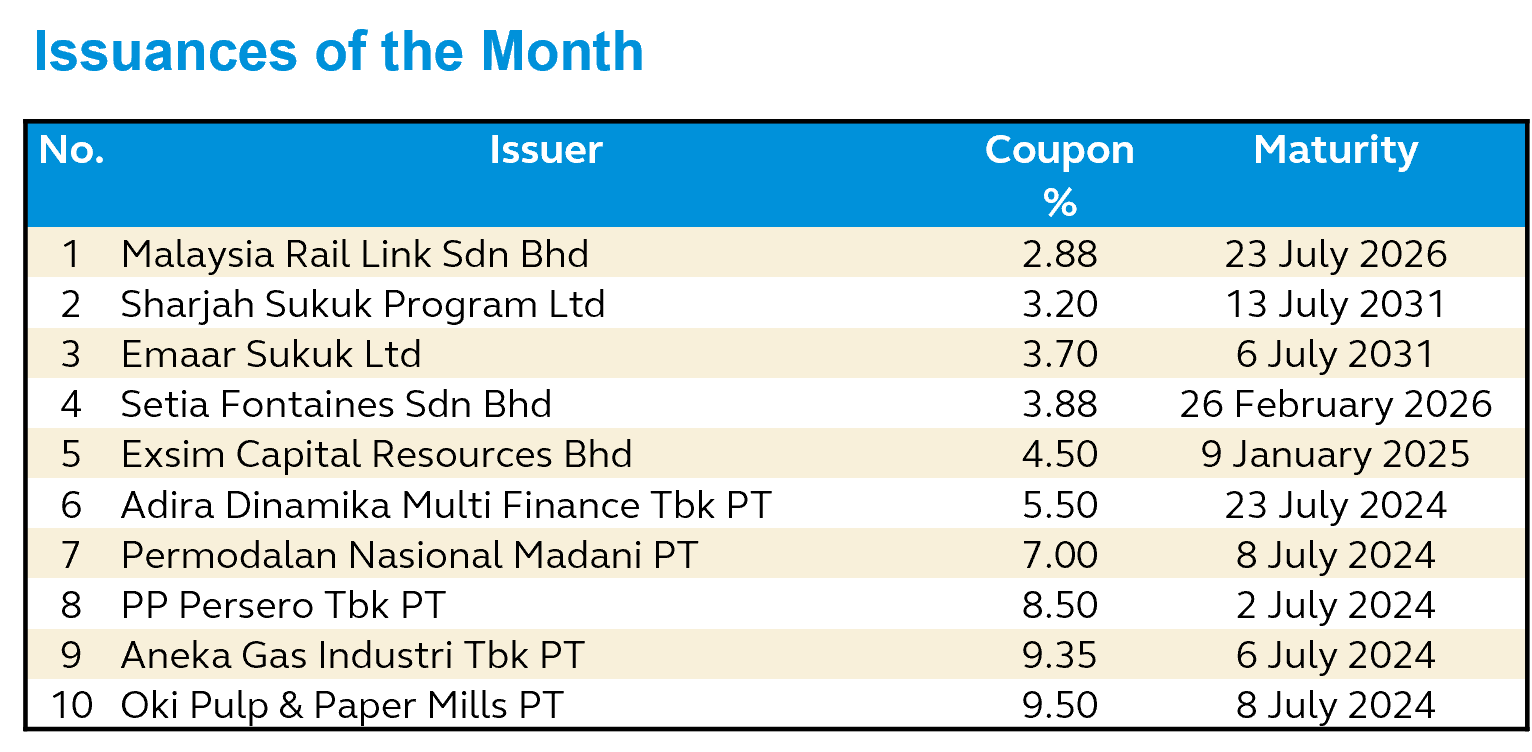 Source: Bloomberg as at 31 July 2021
Disclaimer:
This document is provided to you with information only and should not be construed as an offer or a solicitation of an offer to purchase or subscribe or sell any security, product, service or investment, nor does it constitute investment advice and is not intended for distribution, or used by any person in any country where the investment service referred to is not authorized or which the dissemination of such information is contrary to law and regulation of the country. This document is meant for sophisticated investors only. All information contained herein is confidential and is provided solely for internal use of intended recipient(s). The information in this document may not be reproduced, distributed or published by any recipient. The information contained herein has been derived from sources believed to be reliable and is current as at the publication date. Neither Principal Islamic Asset Management Sdn Bhd, nor any of its officers, directors or employees accept any liability or responsibility in respect to the information or any recommendation expressed herein as no representation or warranty is made as to its accuracy, completeness or correctness of the information provided. The information in this document is subject to change without notice. Persons wishing to rely upon this information should perform their own independent evaluation of risks and benefits or consult directly with the source of information or obtain professional advice where appropriate. The value of the investment may rise or fall. Past performance is not reflective of future results.