Global Sukuk Snapshot: Jun 2022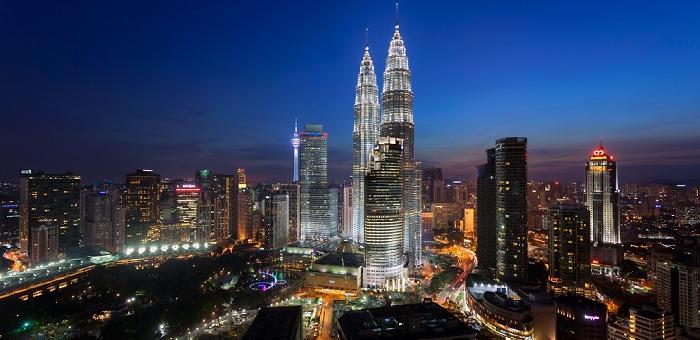 Global Market Commentary
In early June, 10-year US ("US") Treasury ("UST") yields marched higher from 2.84% at end-May to touch 3.50% on 14 June, after US headline Consumer Price Index rose from 8.3% year-on-year ("y-o-y") in April to 8.6% in May, squashing earlier expectations that inflation may have peaked. Furthermore, the University of Michigan consumer sentiment report showed that consumers now expect inflation to continue rising over the next five to ten years. The market reacted by pricing in a steeper 75 basis point ("bps") rate increase ahead of the US Federal ("Fed") meeting on 15 June, pushing yields higher. In line with broad market expectations, the US Fed delivered a 75bps hike to 1.50 - 1.75%, and indicated that a 50bps or 75bps increase in July is possible. The US Fed's revised dot plots also indicates a faster pace of hikes to a median rate of 3.40% in 2022 (vs. 1.90% in March), and 3.80% in 2023 (March 2.80%). In addition, the committee also significantly downgraded its growth projections for 2022 from 2.8% in March to 1.7% (2023: from 2.2% to 1.7%); while revising its Personal Consumption Expenditures inflation forecast higher from 4.3% to 5.2% for 2022. Meanwhile, the US economy created 390,000 new jobs in May (consensus 318,000; April revised higher from 428,000 to 436,000), while average hourly earnings dipped from 5.5% y-o-y to 5.2%. Nevertheless, 10-year UST yields subsequently tumbled to close the month at 3.01% (month-on-month 17bps higher), driven by mounting concerns that the US Fed's aggressive monetary tightening may cause a recession, despite policymakers' assurance that a soft landing is still possible. In June, the final reading of the University of Michigan consumer sentiment index collapsed from 58.4 to 50.0, the lowest on record, as soaring inflation continues to erode household income. US retail sales also weakened from 0.7% in April to -0.3% in May, signaling that the main driver of the US economy may be slowing down.
Meanwhile, Brent oil prices declined by 6.5% from $122.84/barrel ("bbl") at end-May to $114.88/bbl at end-June, amid concerns that slowing global growth may dampen oil demand. On 29 June, Organisation of the Petroleum Exporting Countries Plus ("OPEC+") ratified a 648,000 barrel per day ("bpd") supply increase for July and August, restoring the final tranche of the 9.7million bpd supply cut in 2020. According to a Reuter's survey, OPEC's oil production fell by 100,000 bpd in June (vs. scheduled increment of 274,000 bpd), as declines in Nigeria and Libya offset increases by Saudi and other large producers.
Sukuk News
Fitch Ratings has published an updated version of its Sukuk rating criteria which incorporates minor changes and additions, with no change to the key rating drivers and analytical assumptions, a statement confirmed.
TNB Power Generation ("TNBPG") has on the 2 June 2022 issued a MYR1.5 billion ($341.18 million) sustainability Sukuk Wakalah facility, a bourse filing confirmed. TNBPG is a wholly-owned subsidiary of Tenaga Nasional. The proceeds from the issuance will be utilized for the Nenggiri Hydroelectric Power Plant Project. The issuance was oversubscribed by approximately 3.41 times.
The Sukuk comprised three tranches: a MYR150 million ($34.12 million) tranche with a tenor of 10 years priced at 4.7% per annum, a MYR750 million ($170.59 million) tranche with a tenor of 15 years priced at 5.05% per annum and a MYR600 million ($136.47 million) tranche with a tenor of 20 years priced at 5.2% per annum.
Source: Bloomberg, Islamic Finance News, Reuters (as at 30 June 2022)
Data shown is in US Dollar unless otherwise noted.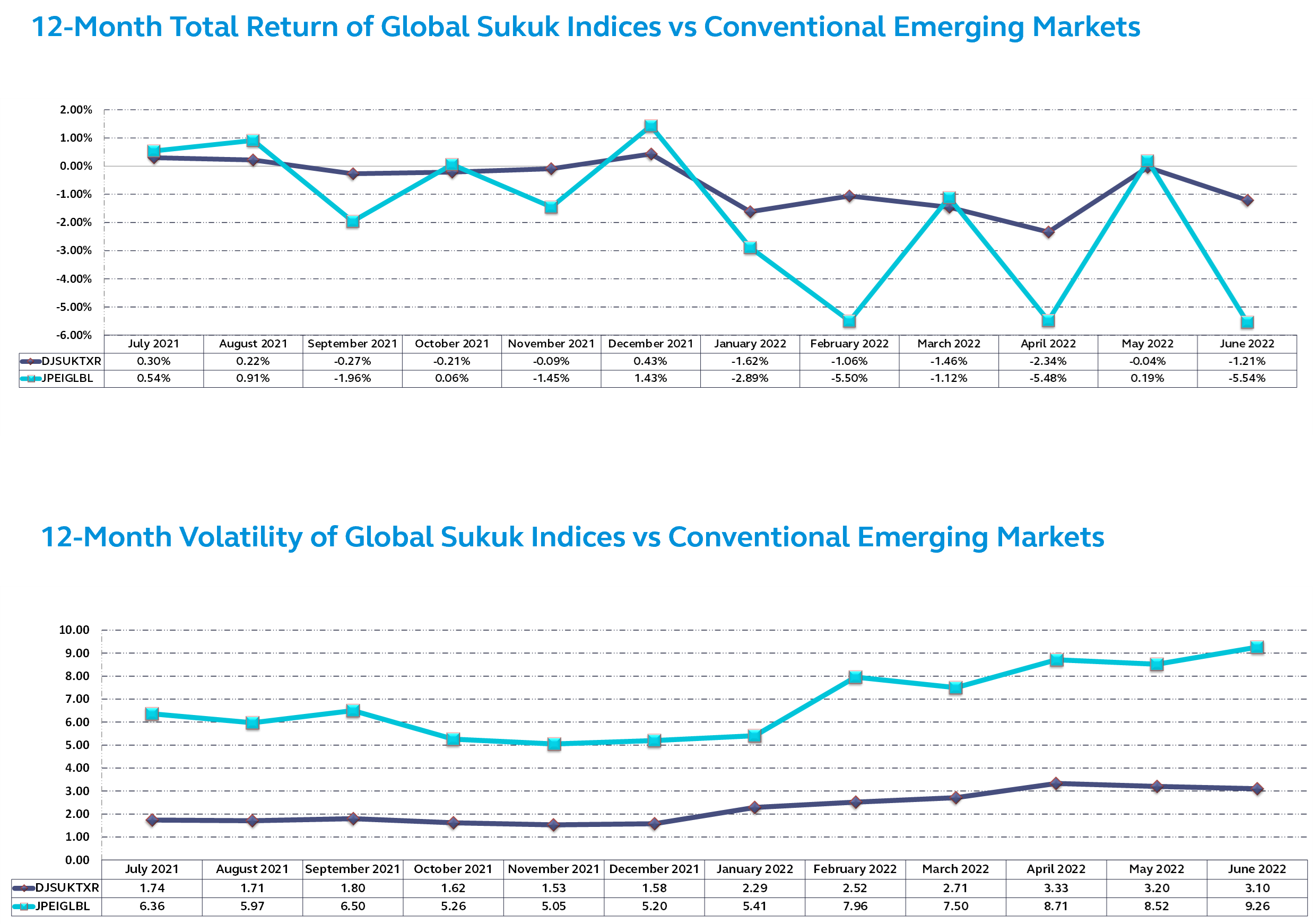 DJSUKTXR | Dow Jones Sukuk Index
JPEIGLBL | JP Morgan EMBI Global Total Return Index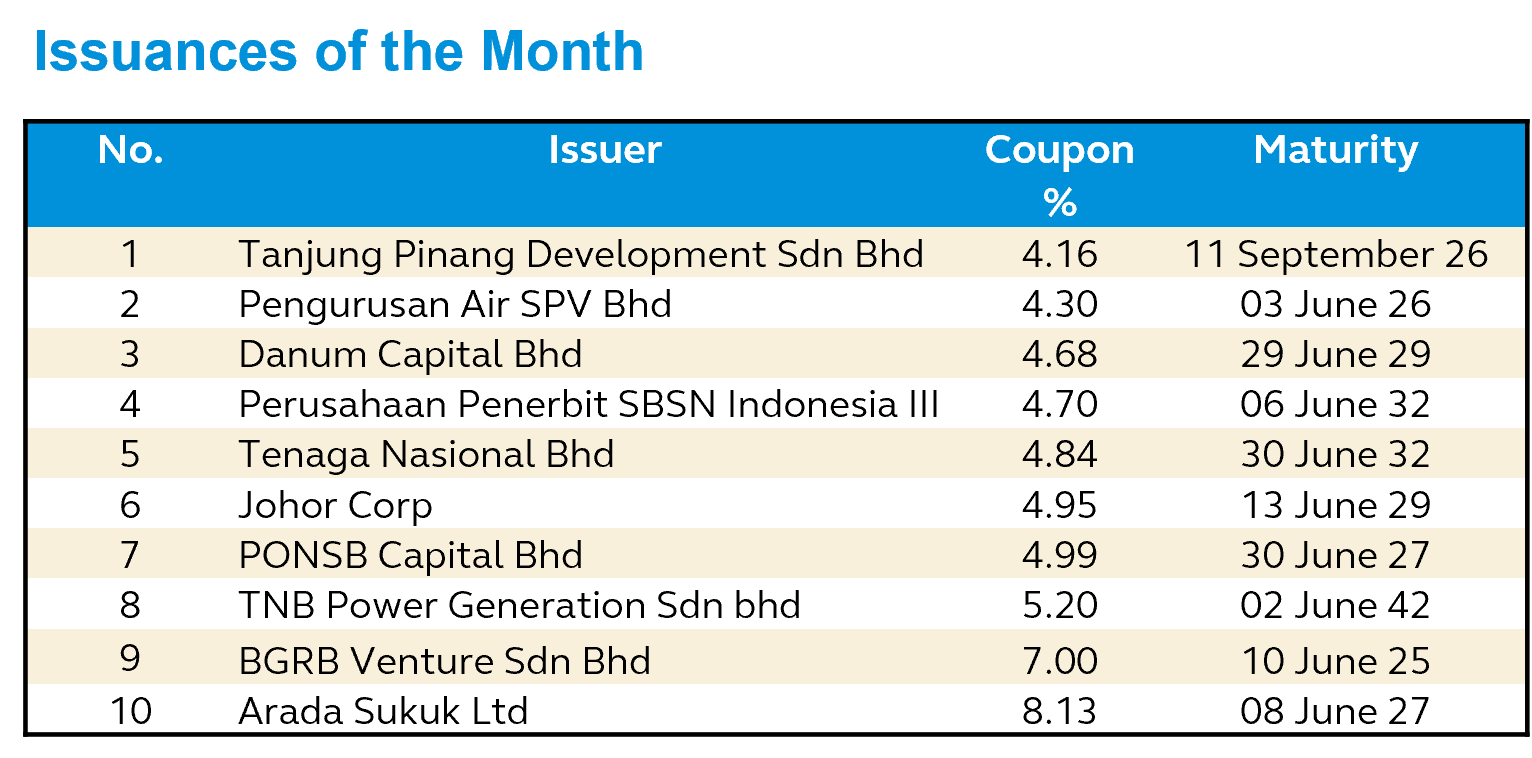 Source: Bloomberg as at 30 June 2022

Disclaimer:
This document is provided to you with information only and should not be construed as an offer or a solicitation of an offer to purchase or subscribe or sell any security, product, service or investment, nor does it constitute investment advice and is not intended for distribution, or used by any person in any country where the investment service referred to is not authorized or which the dissemination of such information is contrary to law and regulation of the country. This document is meant for sophisticated investors only. All information contained herein is confidential and is provided solely for internal use of intended recipient(s). The information in this document may not be reproduced, distributed or published by any recipient. The information contained herein has been derived from sources believed to be reliable and is current as at the publication date. Neither Principal Islamic Asset Management Sdn Bhd, nor any of its officers, directors or employees accept any liability or responsibility in respect to the information or any recommendation expressed herein as no representation or warranty is made as to its accuracy, completeness or correctness of the information provided. The information in this document is subject to change without notice. Persons wishing to rely upon this information should perform their own independent evaluation of risks and benefits or consult directly with the source of information or obtain professional advice where appropriate. The value of the investment may rise or fall. Past performance is not reflective of future results. This has not been reviewed by the Securities Commission Malaysia.