This block is broken or missing. You may be missing content or you might need to enable the original module.
Global Sukuk Snapshot: Mar 2020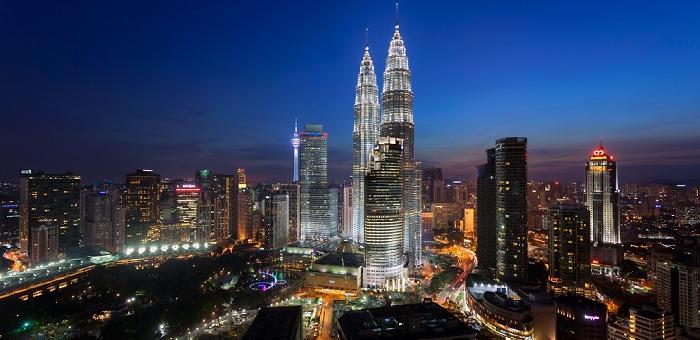 Global Market Commentary
In March 2020, the rally in United States ("US") Treasuries ("UST") intensified as investors poured into safe haven assets amid surging Covid-19 infections globally, with confirmed cases soaring sharply in Europe and the US. To slow the spread of the virus, many countries are implementing various forms of movement control, including mandatory quarantines, social distancing, non-essential business closures and travel restrictions. With more than a third of the world population under lockdown, economic activities are grinding to a halt, compelling governments and central banks around the world to cut interest rates and unleash unprecedented fiscal and monetary stimulus to cushion the impact. During the month, UST yields rallied by 35-66 basis points ("bps") across the board, led by the short-end of the curve, after the US Federal Reserve slashed interest rates by a total of 150bps to 0.00-0.25%, the lowest since 2008, in two unscheduled emergency meetings. Meanwhile, benchmark 10-year UST yields rallied by 83bps from 1.14% at end-February 2020 to historic low of 0.31% on 9 March 2020, before normalizing to close the month at 0.66% [month-on-month ("m-o-m") 48bps lower, quarter-on-quarter 125bps lower].
During the month, Brent crude oil prices were fairly stable at around $50-53/barrel ("bbl"), before it breached the USD 50/bbl mark to $45.50/bbl on 6 March 2020, as the Organisation of the Petroleum Exporting Countries ("OPEC")+ members gathered in Vienna to discuss further production cuts amid reduced demand due to the Covid-19 outbreak. Saudi Arabia had pushed for additional production cuts of 1.5 million barrel per day beginning April 2020 until the end of the year, the deepest supply cuts since the global financial crisis, which was conditional upon receiving support from non-OPEC members, including Russia. M-o-m, Brent crude oil prices plunged by 55.00%, the worst monthly drop in more than two years, from $50.50/bbl at end-February 2020 to close the month at $22.71/bbl, the lowest level in 18 years. Moody's downgraded Oman's sovereign rating from Ba1 to Ba2 and changed the outlook from Negative to Stable. S&P affirmed Saudi Arabia's sovereign credit rating at A- with a Stable outlook, as the Gulf nation's strong net asset-stock position on its fiscal and external balances continues to be a key ratings support. S&P affirmed Malaysia's A- rating and maintained its Stable outlook, given expectations that Malaysia's core credit strengths, including its robust external position and highly credible monetary policy settings, will continue to support the rating following the recent aggressive decline in oil prices and unexpected change in government.
Sukuk News
Dubai Islamic Bank has postponed a planned issuance of US dollar-denominated sukuk due to market conditions resulting from the new coronavirus outbreak, three sources familiar with the matter said. It was planning to raise the financing, likely to be $750 million on 26 February 2020, but decided to wait for better market conditions, said one of the sources.
Property developer Mah Sing Group Bhd said its MYR600 million Sukuk Murabahah issuance has been oversubscribed. The proceeds raised from the sukuk will be utilised for the group's landbanking, investments and working capital, as well as the refinancing of its existing borrowings and/or redemption of unrated perpetual securities.
Source: Reuters, The Edge Markets (as at 31 March 2020)
Data shown is in US Dollar unless otherwise noted.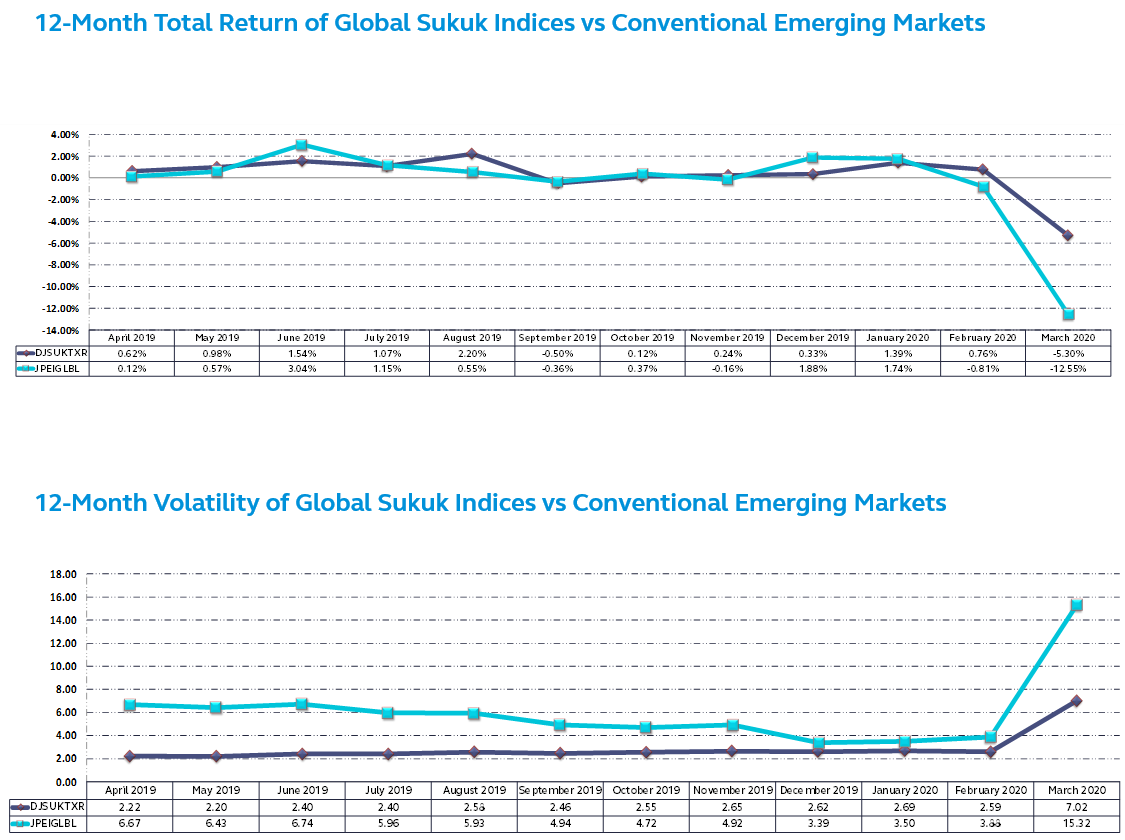 DJSUKTXR | Dow Jones Sukuk Index
JPEIGLBL | JP Morgan EMBI Global Total Return Index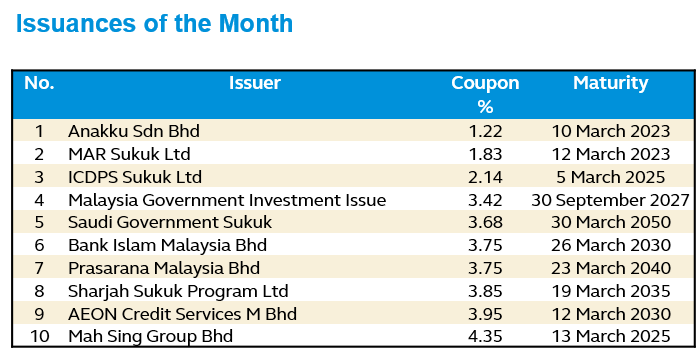 Source: Bloomberg as at 31 March 2020

Disclaimer:
This document is provided to you with information only and should not be construed as an offer or a solicitation of an offer to purchase or subscribe or sell any security, product, service or investment, nor does it constitute investment advice and is not intended for distribution, or used by any person in any country where the investment service referred to is not authorized or which the dissemination of such information is contrary to law and regulation of the country. This document is meant for sophisticated investors only. All information contained herein is confidential and is provided solely for internal use of intended recipient(s). The information in this document may not be reproduced, distributed or published by any recipient. The information contained herein has been derived from sources believed to be reliable and is current as at the publication date. Neither Principal Islamic Asset Management Sdn Bhd, nor any of its officers, directors or employees accept any liability or responsibility in respect to the information or any recommendation expressed herein as no representation or warranty is made as to its accuracy, completeness or correctness of the information provided. The information in this document is subject to change without notice. Persons wishing to rely upon this information should perform their own independent evaluation of risks and benefits or consult directly with the source of information or obtain professional advice where appropriate. The value of the investment may rise or fall. Past performance is not reflective of future results.