Global Sukuk Snapshot: Mar 2021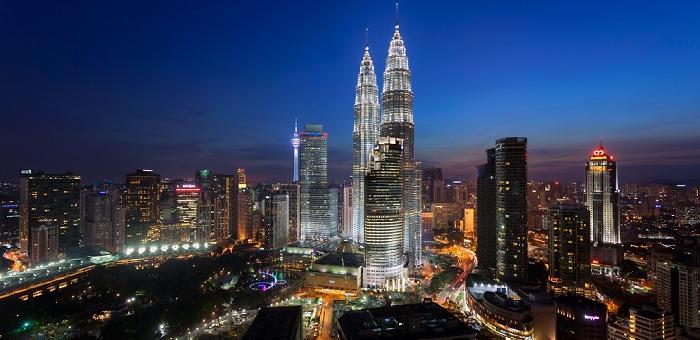 Global Market Commentary
United States ("US") Treasury ("UST") yields rose across the board in March 2020, with the 10-year yield briefly touching 1.77% on 30 March 2021, the highest level in 14 months. Yields rose as investors continued to price in earlier than expected US interest rate hikes, even as the Federal Reserve continued to reiterate that it will maintain rates at near zero levels until at least 2024. The spike in UST yields were anchored by better-than-expected US economic data, investor optimism about the rollout of coronavirus vaccines in the US, and expectations that President Joe Biden's new $2.3 trillion infrastructure plan may result in higher UST supply. Month-on-month ("m-o-m"), 10- year UST yields closed the month 34 basis points ("bps") higher from 1.40% at end-February 2021 to 1.74% at end-March 2021. The US Institute for Supply Management ("ISM") manufacturing index increases from 58.7 in January 2021 to 60.8 in February 2021, signifying expansion in manufacturing activities. Meanwhile, ISM services index fell sharply from 58.7 to 55.3, the lowest level in nine months, as companies grapple with logistical challenges and rising prices amidst a severe winter storm.
In early March 2021, Brent crude oil prices continued to rally, gaining 8.2% from $65.97/barrel ("bbl") at end-February 2021 to touch an intraday high of $71.38/bbl on 8 March 2021. The rally was driven by the Organisation of the Petroleum Exporting Countries+ (which includes other members outside OPEC such as Russia, Kazakhstan and Mexico) ("OPEC+")'s surprise decision to hold production steady at current levels for the month of April 2021. Meanwhile, Saudi Arabia agreed to maintain its additional 1 million barrel per day voluntary production cut that took effect in February 2021, and announced that the cuts are now open ended, signaling the kingdom's strong commitment to protect the oil price recovery. In mid-March 2021, oil prices plummeted by more than 7% to around $61/bbl, triggered by large European economies suspending use of the AstraZeneca Covid-19 vaccine, triggering worries that a bumpy rollout of vaccines in Europe, and rising cases in other parts of the world may weaken demand for fuel. Brent oil prices closed the month -3.6% lower m-o-m from $65.97/bbl to $63.57/bbl at end-March 2021.
Sukuk News
Malaysia Airlines in a statement has confirmed that it has commenced the restructuring of its unrated perpetual Sukuk Musharakah of up to MYR1.5 billion ($363.85 million) in nominal value effective the 22 March 2021. Accordingly, the Sukuk Musharakah facility will be canceled on the 29 March 2021.
The Islamic Development Bank ("IsDB") has raised $2.5 billion from the issuance of a five-year sustainability Sukuk facility at 33bps over midswaps, a statement confirmed. Proceeds from the issuance will be used for general corporate purposes or to finance or refinance eligible projects in accordance with the IsDB's sustainable finance framework.
Source: Bloomberg, Islamic Finance News, Reuters (as at 31 March 2021)
Data shown is in US Dollar unless otherwise noted.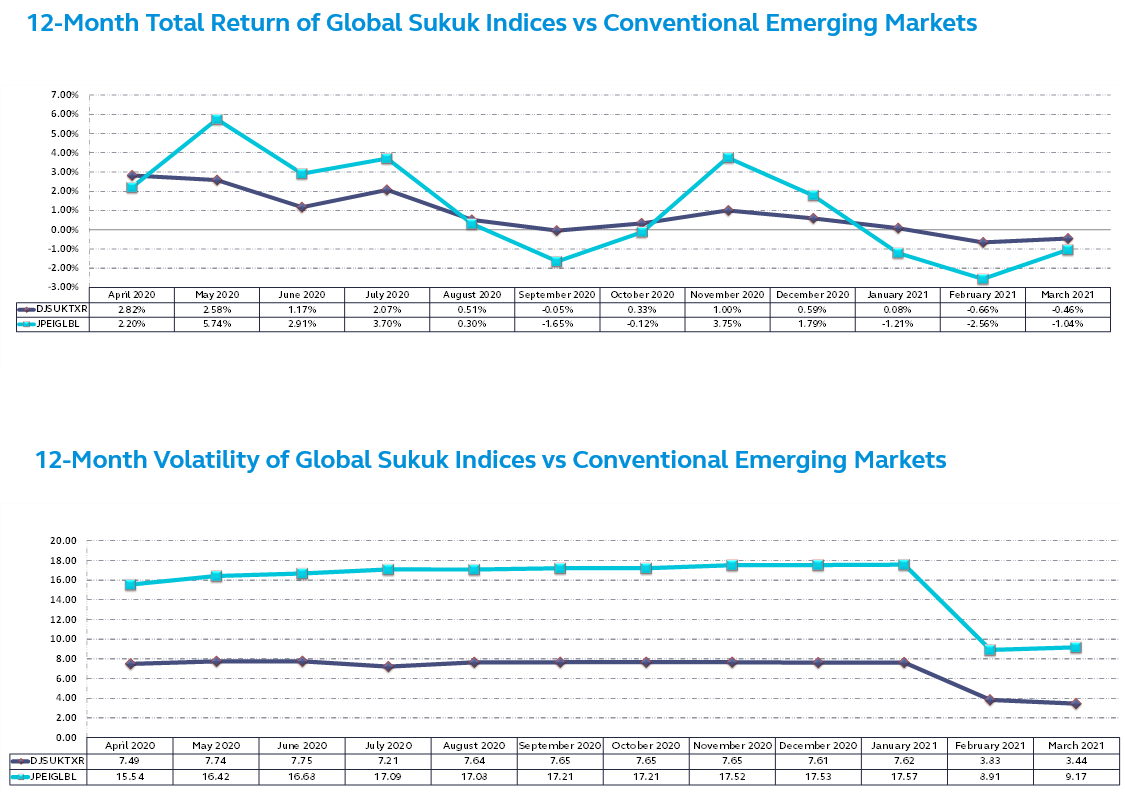 DJSUKTXR | Dow Jones Sukuk Index
JPEIGLBL | JP Morgan EMBI Global Total Return Index
Source: Bloomberg as at 31 March 2021

Disclaimer:
This document is provided to you with information only and should not be construed as an offer or a solicitation of an offer to purchase or subscribe or sell any security, product, service or investment, nor does it constitute investment advice and is not intended for distribution, or used by any person in any country where the investment service referred to is not authorized or which the dissemination of such information is contrary to law and regulation of the country. This document is meant for sophisticated investors only. All information contained herein is confidential and is provided solely for internal use of intended recipient(s). The information in this document may not be reproduced, distributed or published by any recipient. The information contained herein has been derived from sources believed to be reliable and is current as at the publication date. Neither Principal Islamic Asset Management Sdn Bhd, nor any of its officers, directors or employees accept any liability or responsibility in respect to the information or any recommendation expressed herein as no representation or warranty is made as to its accuracy, completeness or correctness of the information provided. The information in this document is subject to change without notice. Persons wishing to rely upon this information should perform their own independent evaluation of risks and benefits or consult directly with the source of information or obtain professional advice where appropriate. The value of the investment may rise or fall. Past performance is not reflective of future results.