This block is broken or missing. You may be missing content or you might need to enable the original module.
Global Sukuk Snapshot: May 2020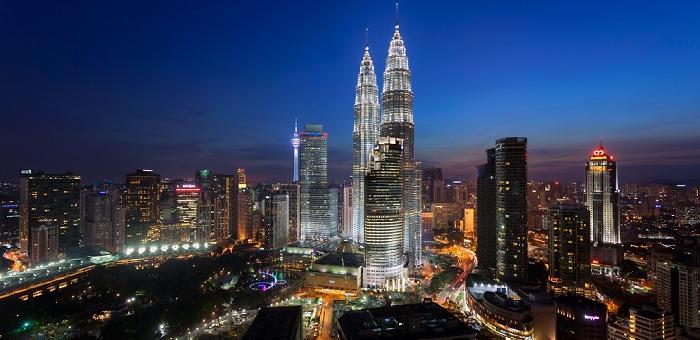 Global Market Commentary
United States ("US") Treasuries ("UST") remained fairly stable in May 2020, with the 10-year yields trading within a tight range of 0.58%-0.74% as lingering downside risks continue to cloud the global growth outlook. This is despite partial reopening of most countries as new Coronavirus disease 2019 ("Covid-19") infections eased, as well as reports of progress in developing a vaccine for the coronavirus. During the month, demand for safe-haven assets remained well supported as tensions between the US and China heated up again, with President Trump blaming China for its lack of transparency during the early days of the Covid-19 outbreak. Meanwhile, the UST yield curve bear steepened month-on-month ("m-o-m") as the shorter end of the curve edged lower by 3-5 basis points amid talks of potential negative interest rates in the US, while yields on the longer end of the curve moved higher following new supply of 20-year and 30-year UST, totaling $72 billion.
Brent crude oil continued to recover, posting handsome gains of 39.10% m-o-m from $25.39/barrel ("bbl") at end-April 2020 to close the month at $35.31/bbl as countries around the world eased lockdown restrictions and gradually reopened their economies, coupled with reports that a vaccine may be available in the near term. Since hitting an intraday bottom of $15.98/bbl on 22 April 2020, Brent crude oil prices have rebounded by 121.00%. Prices were also buoyed by the Organisation of the Petroleum Exporting Countries ("OPEC")+'s production cuts of 9.7 million barrels per day ("bpd"), which took effect on 1 May 2020. During the month, Saudi Arabia announced that the kingdom is planning to voluntarily cut production in June 2020 by an additional 1 million bpd from 8.5 million bpd (per the OPEC+ agreement) to around 7.5 million bpd. Following Saudi's announcement, the United Arab Emirates and Kuwait followed suit, and announced additional cuts of 100,000 bpd and 80,000 bpd respectively. Meanwhile the Global Sukuk market continued to stage a strong rebound in May 2020, buoyed by improved sentiment and a rally in oil prices. During the month, the Kingdom of Bahrain issued $1 billion of 4.5-year sukuk and $1 billion of 10-year conventional bonds, attracting overwhelming demand of $11 billion orders in total (5.5 times oversubscription rate). The secondary Global Sukuk market continued to be a seller's market in May 2020, as offers were limited amid a lack of new primary sukuk issuances, therefore driving prices higher. After lagging behind the rally in sovereign Sukuk in April 2020, Gulf Cooperation Council corporate credits rallied strongly in May 2020, driven by improved risk appetite as countries and businesses reopened.
Sukuk News
Three Gambian government Sukuk Salam were issued on the 20 May 2020. The GMD10 million ($193,734) one-year paper was more than seven times oversubscribed, receiving GMD73.4 million ($1.42 million) in orders, while the three-month and six-month offerings, both for GMD5 million ($96,866.8), were undersubscribed, each receiving GMD650,000 ($12,592.7) and GMD3.08 million ($59,669.9) in subscriptions respectively, according to official tender results.
The Pakistani federal government has attracted approximately PKR300 billion ($1.87 billion)-worth of bids for its PKR200 billion ($1.25 billion) Sukuk offering, proceeds from which will be used to settle nearly 20.00% of its circular debt, according to The Express Tribune. The 10-year paper is to be issued by Power Holding, owned by the Ministry of Energy.
Source: Bloomberg, Islamic Finance News, Reuters (as at 31 May 2020)
Data shown is in US Dollar unless otherwise noted.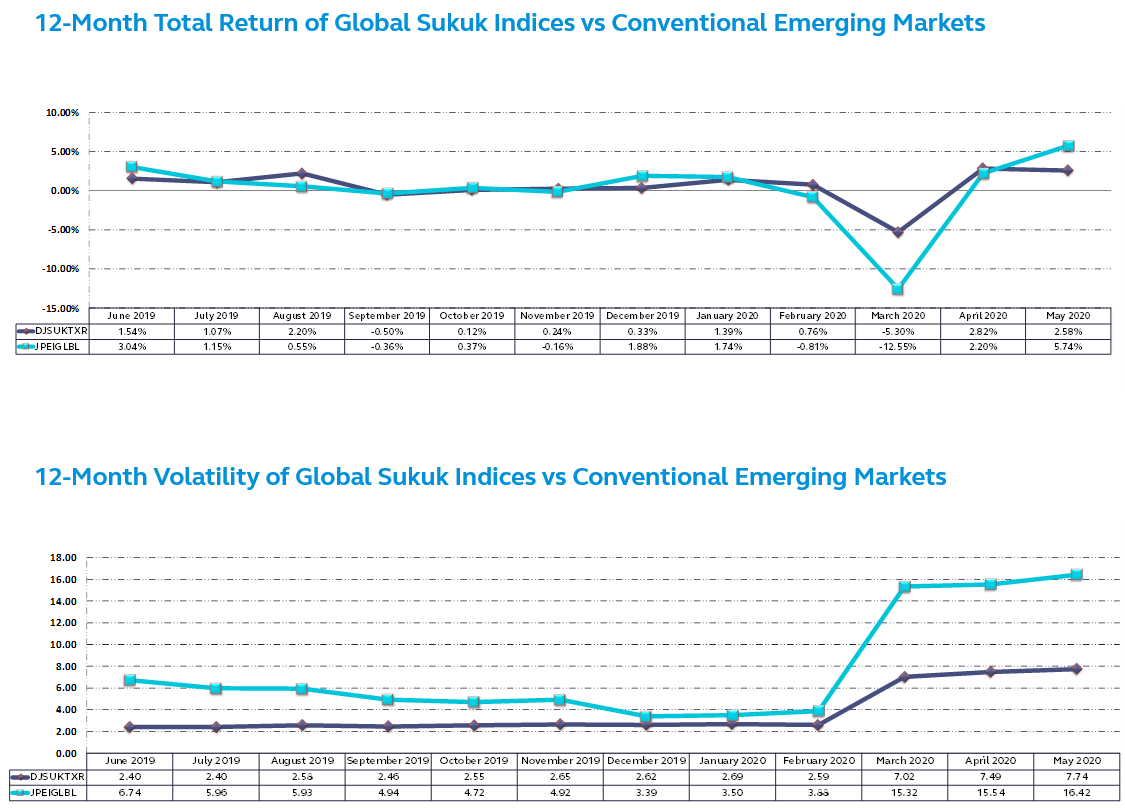 DJSUKTXR | Dow Jones Sukuk Index
JPEIGLBL | JP Morgan EMBI Global Total Return Index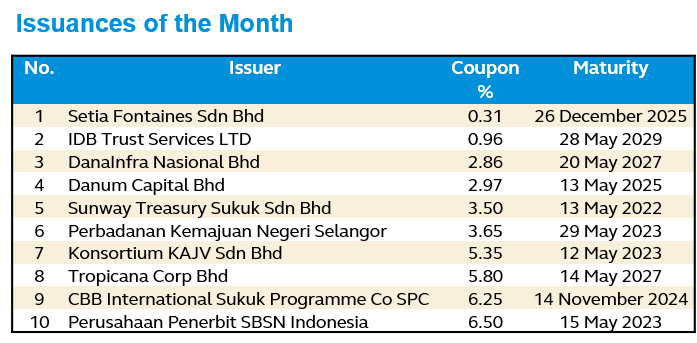 Source: Bloomberg as at 31 May 2020

Disclaimer:
This document is provided to you with information only and should not be construed as an offer or a solicitation of an offer to purchase or subscribe or sell any security, product, service or investment, nor does it constitute investment advice and is not intended for distribution, or used by any person in any country where the investment service referred to is not authorized or which the dissemination of such information is contrary to law and regulation of the country. This document is meant for sophisticated investors only. All information contained herein is confidential and is provided solely for internal use of intended recipient(s). The information in this document may not be reproduced, distributed or published by any recipient. The information contained herein has been derived from sources believed to be reliable and is current as at the publication date. Neither Principal Islamic Asset Management Sdn Bhd, nor any of its officers, directors or employees accept any liability or responsibility in respect to the information or any recommendation expressed herein as no representation or warranty is made as to its accuracy, completeness or correctness of the information provided. The information in this document is subject to change without notice. Persons wishing to rely upon this information should perform their own independent evaluation of risks and benefits or consult directly with the source of information or obtain professional advice where appropriate. The value of the investment may rise or fall. Past performance is not reflective of future results.