Global Sukuk Snapshot: May 2021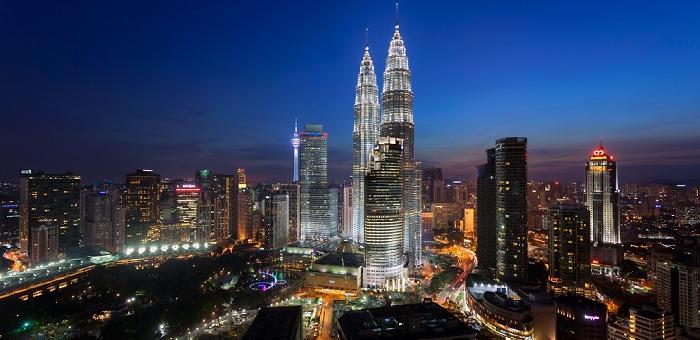 Global Market Commentary
Following the strong rally in April 2021, 10-year United States Treasury ("UST") yields remained fairly stable in May 2021, trading within a tight range of 1.55-1.70%. This was due to mixed US economic data, despite less dovish comments from some US Federal Reserve ("Fed") members. Amid the recovery made in the US economy so far, several policymakers expressed openness to begin tapering their quantitative easing program in the upcoming meetings, while some remained cautious about the downside risks to growth. With the exception of the 20-year UST yields which rose by 2 basis points ("bps"), other tenures ended the month 1-5bps lower, with the benchmark 10-year UST yields closing the month 4bps lower from 1.63% at end-April 2021 to 1.59% at end-May 2021. In early May 2021, 10-year UST briefly plummeted to touch an intraday low of 1.46% on 7 May 2021, triggered by a much smaller-than-expected US jobs gain in April 2021, before closing the day at 1.57%. In April 2021, US nonfarm payrolls rose by only 266,000 (consensus 1 million, March 2021 revised lower from 916,000 to 770,000), as employers face hiring challenges as well as supply chain disruptions and higher costs.
On 12 May 2021, 10-year UST weakened to touch 1.70%, the highest in a month, after US headline Consumer Price Index surged more than expected, from 2.6% in March 2021 to 4.2% (consensus 3.6%), before reversing following weak US retail sales. Subsequently, 10-year UST yields drifted higher to 1.68% following less dovish US Fed meeting minutes for April 2021, before rallying to close the month at 1.59%. Meanwhile, following a +5.8% recovery in April 2021, Brent crude oil prices continued to rise from $67.26/barrel ("bbl") in April 2021 to touch $70.24/bbl on 18 May 2021 amid expectations of higher oil demand in the US, China and parts of Europe as vaccinations increase. In the US, the number of passengers at airports jumped to the highest level since the pandemic began, a sign of revival in domestic travel that is driving demand for jet fuel in a post-pandemic era. However towards month-end, Brent crude oil prices fell below the $65/bbl mark as investors braced for prospects of more Iranian crude flows as the nation inches closer to a revived nuclear deal, before rebounding to close the month at $68.98/bbl (+2.8% month-on-month) as investors focused on the brighter oil demand outlook.
Sukuk News
Kulim Technology Park Corporation has on the 25 May 2021 issued a six-month Islamic paper worth MYR100 million ($24.12 million) with a profit rate of 3.36% alongside six Islamic medium-term notes worth MYR25 million ($6.03 million) each with tenors ranging from 2.5 years to five years, according to separate filings on the Bond and Sukuk Information Exchange.
Maxis Broadband has on the 20 May 2021 issued an unrated Islamic medium-term note ("IMTN") worth MYR900 million ($217.99 million) with a profit rate of 3.5%, according to a filing on the Bond and Sukuk Information Exchange. The unrated IMTN has a five-year tenor and is structured under the Murabahah concept.
DP World Crescent in a bourse filing has confirmed the periodic profit distribution for its $1.2 billion Sukuk due 2023 with a profit rate of 3.91% on the 1 June 2021. According to a bourse filing, a total of $23.45 million will be distributed to Sukukholders.
Source: Bloomberg, Islamic Finance News, Reuters (as at 31 May 2021)
Data shown is in US Dollar unless otherwise noted.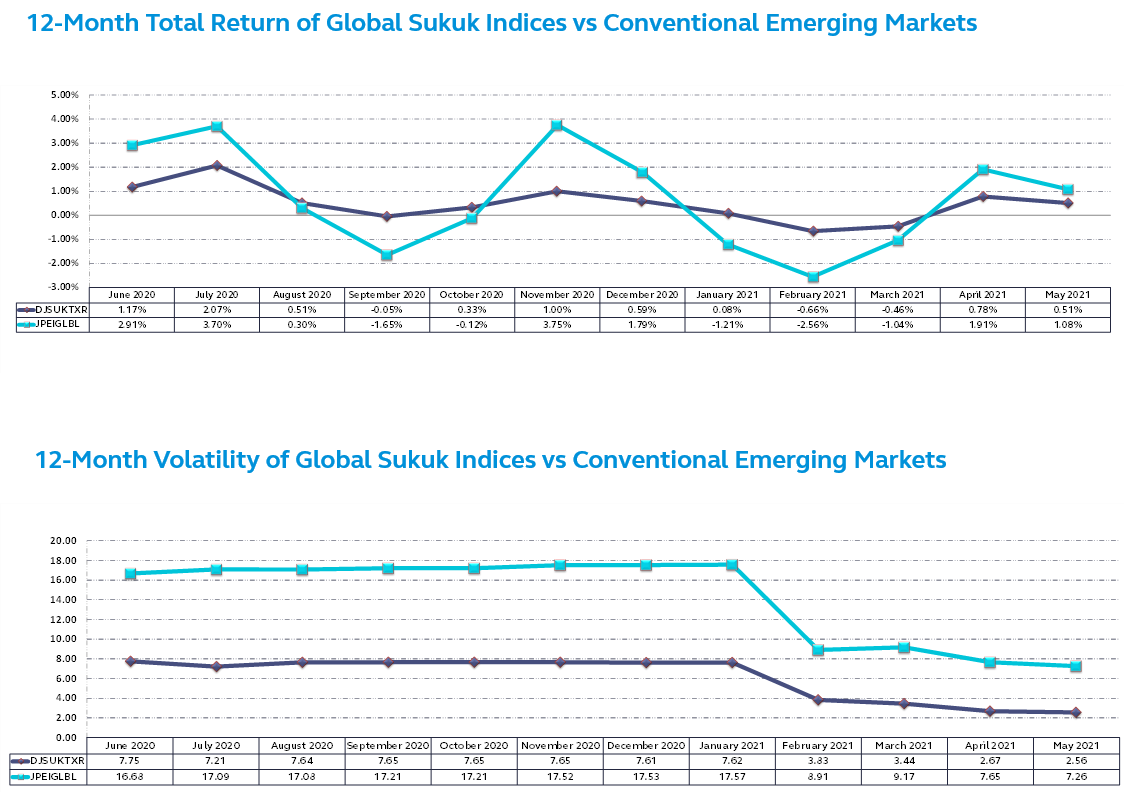 DJSUKTXR | Dow Jones Sukuk Index
JPEIGLBL | JP Morgan EMBI Global Total Return Index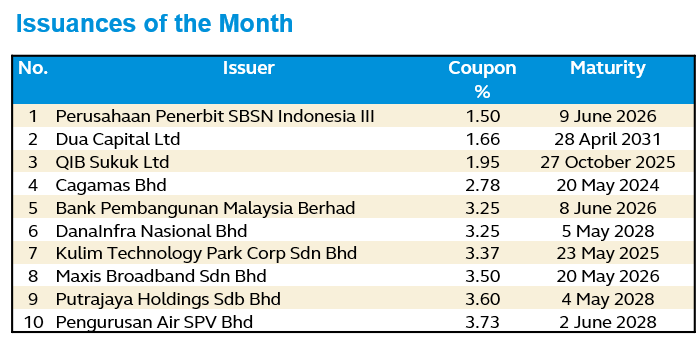 Source: Bloomberg as at 31 May 2021

Disclaimer:
This document is provided to you with information only and should not be construed as an offer or a solicitation of an offer to purchase or subscribe or sell any security, product, service or investment, nor does it constitute investment advice and is not intended for distribution, or used by any person in any country where the investment service referred to is not authorized or which the dissemination of such information is contrary to law and regulation of the country. This document is meant for sophisticated investors only. All information contained herein is confidential and is provided solely for internal use of intended recipient(s). The information in this document may not be reproduced, distributed or published by any recipient. The information contained herein has been derived from sources believed to be reliable and is current as at the publication date. Neither Principal Islamic Asset Management Sdn Bhd, nor any of its officers, directors or employees accept any liability or responsibility in respect to the information or any recommendation expressed herein as no representation or warranty is made as to its accuracy, completeness or correctness of the information provided. The information in this document is subject to change without notice. Persons wishing to rely upon this information should perform their own independent evaluation of risks and benefits or consult directly with the source of information or obtain professional advice where appropriate. The value of the investment may rise or fall. Past performance is not reflective of future results.