Global Sukuk Snapshot: May 2022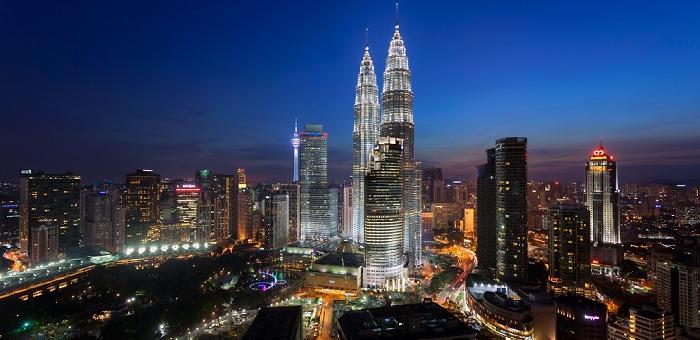 Global Market Commentary
As widely anticipated, the US Federal Reserve ("Fed") unanimously voted to raise rates by 50 basis points ("bps") to 0.75 - 1.00% on 4 May, the largest increase in 22 years. The committee also announced that it will begin reducing its holdings of US Treasuries ("UST") and mortgage-backed securities ("MBS") on 1 June, by $30 billion and $17.5 billion respectively (total $47.5 billion). Over the next three months, the pace will quicken to $60 billion for UST and $35 billion for MBS (total $95 billion). In addition, the US Fed signaled that it may continue hiking rates by another 50bps each in June and July, but ruled out a steeper 75bps hike for now. Policymakers said the US economy is very strong and well-positioned to handle tighter monetary policy, and expects a "soft or softish" landing. In April, the US economy added 428,000 new jobs, surpassing consensus expectations of 380,000 (March revised lower from 431,000 to 398,000); while average hourly earnings dipped from 0.5% to 0.3% month-on-month ("m-o-m"). Despite the mixed US jobs report and slightly dovish Fed meeting outcome, 10-year UST yields continued to march higher past the 3.00% psychological hurdle to touch 3.20% on 9 May, the highest since November 2018. Subsequently, yields plummeted sharply to around 2.70%, after US headline Consumer Price Index eased from 1.2% m-o-m in March to 0.3% in April (year-on-year from 8.5% to 8.3%), suggesting inflation may have peaked. Furthermore, mixed US economic data fueled concerns that the Fed's steep rate hikes may drag the economy into a recession, driving yields lower. In May, the consumer sentiment index fell sharply from 65.2 in April to 58.4, a fresh decade low; while other economic indicators e.g. housing market has started to soften. Towards month-end, 10-year UST pared some gains to close the month at 2.84% (m-o-m 9bps higher).
Meanwhile, Brent oil prices gained 12.3% in May from $109.34/barrel ("bbl") at end-April to $122.84/bbl, driven by persistent concerns over a tight supply market as the European Union agreed to pursue a partial ban on oil imports from Russia. On the other hand, demand for oil is expected to improve as China eases Covid-19 restrictions, and ahead of the summer travel season. On 5 May, Organisation of the Petroleum Exporting Countries Plus ("OPEC+") ratified a 432,000 barrel per day ("bpd") increase for June, as scheduled earlier. According to a Bloomberg survey, OPEC+ added only 10,000 bpd in April, much lower than the scheduled increment of 274,000 bpd.
Sukuk News
Imtiaz Sukuk II has on the 12 May 2022 issued two Islamic medium-term notes - a five year facility worth MYR700 million ($59.74 million) with a profit rate of 4.38% and a seven-year facility worth MYR800 million ($82.56 million) with a profit rate of 4.77% — structured under the Murabahah and Wakalah concepts, according to separate filings on the Bond and Sukuk Information Exchange. Both facilities are rated 'AA2 (s)' by RAM Ratings.
S&P Global Ratings has reported that it expects the Islamic banking market in Southeast Asia to grow at a compound annual growth rate of about 8% over the next three years, primarily led by Malaysia and Indonesia. The region currently forms 17% of the $1.7 trillion in global Islamic banking assets. This makes it the third-largest market after the Gulf Cooperation Council and the Middle East.
The rating agency further reported that Malaysia and Indonesia hold 81% and 15% respectively of Southeast Asia's Islamic banking assets while Brunei holds 4% of the assets.
Source: Bloomberg, Islamic Finance News, Reuters (as of 31 May 2022)
Data shown is in US Dollar unless otherwise noted.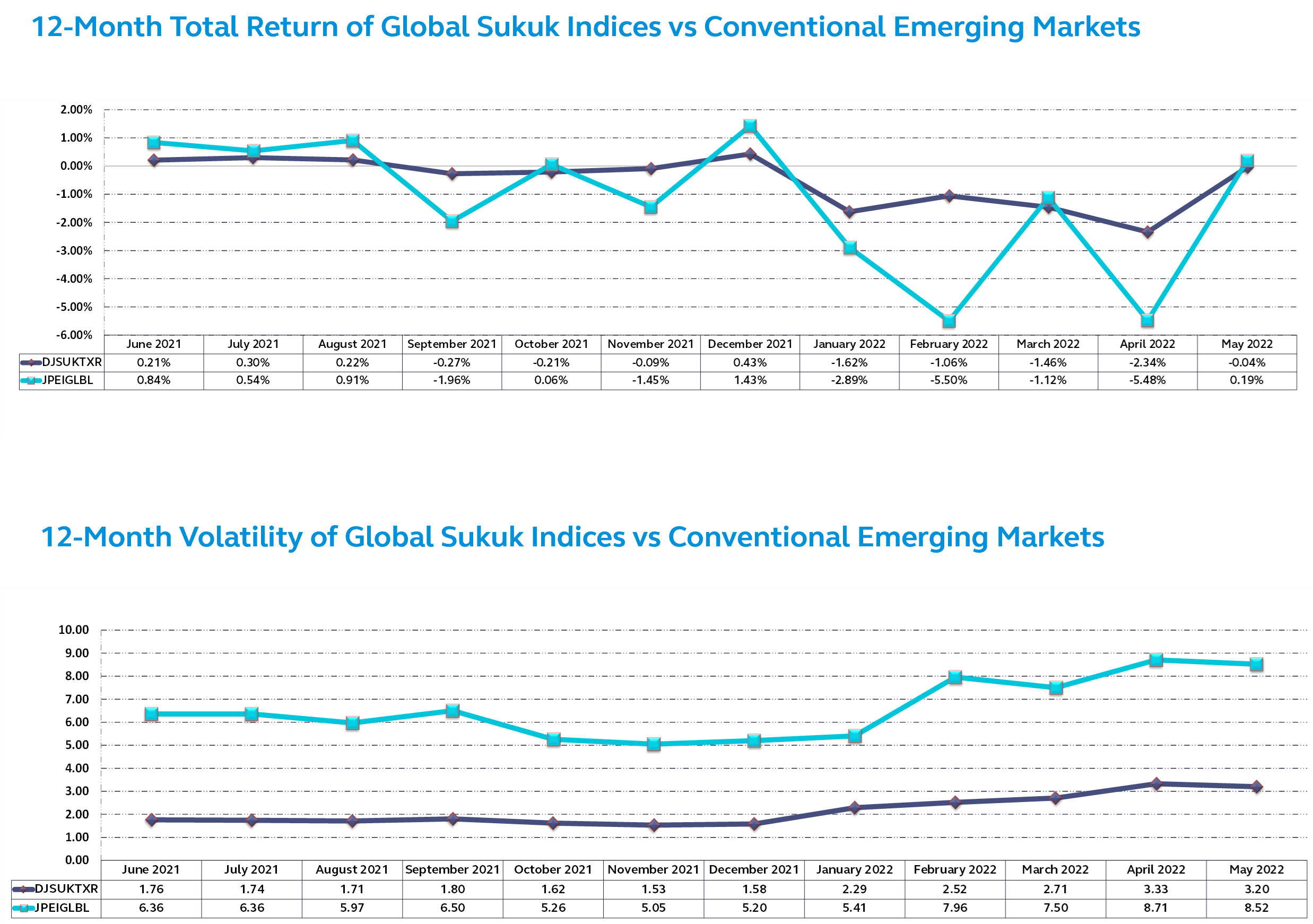 DJSUKTXR | Dow Jones Sukuk Index
JPEIGLBL | JP Morgan EMBI Global Total Return Index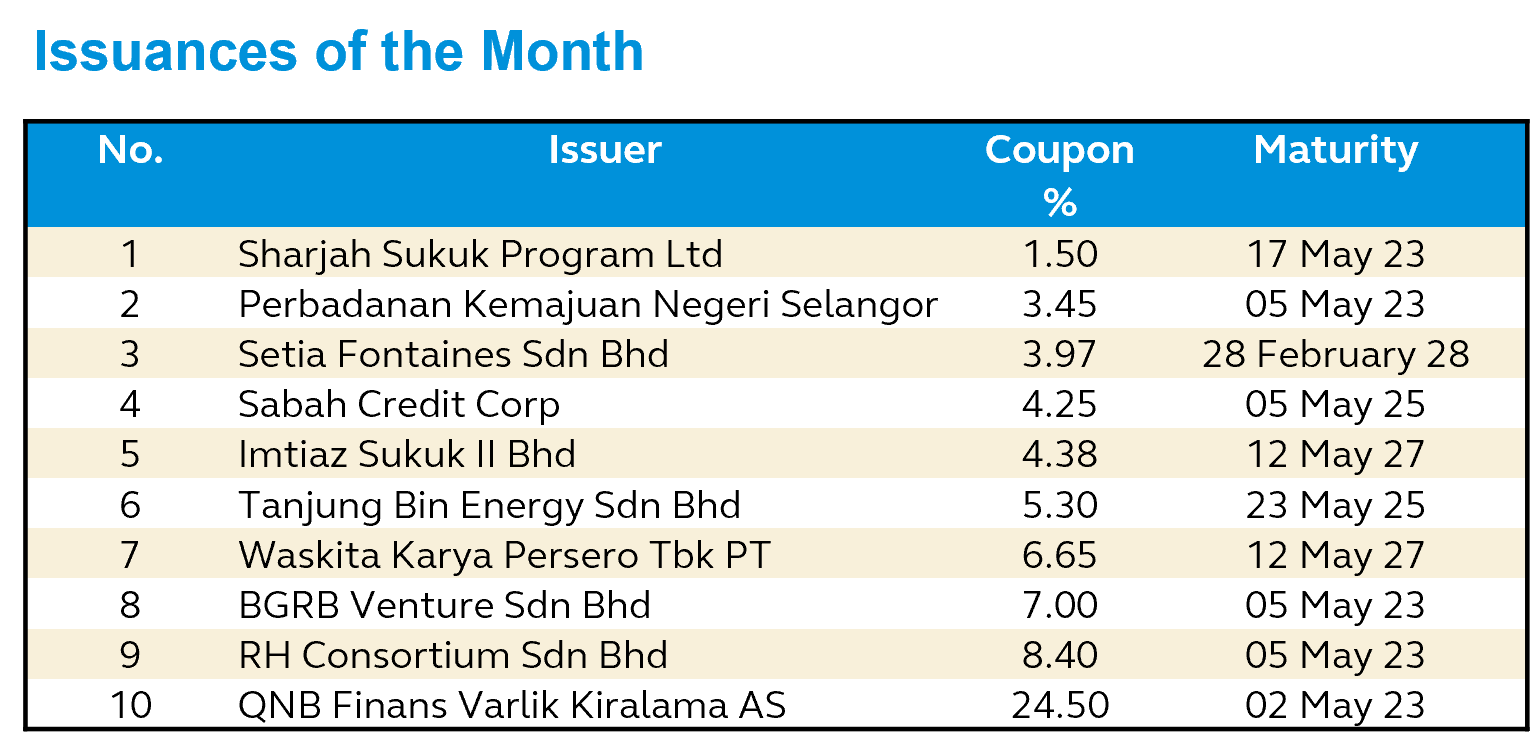 Source: Bloomberg as at 31 May 2022

Disclaimer:
This document is provided to you with information only and should not be construed as an offer or a solicitation of an offer to purchase or subscribe or sell any security, product, service or investment, nor does it constitute investment advice and is not intended for distribution, or used by any person in any country where the investment service referred to is not authorized or which the dissemination of such information is contrary to law and regulation of the country. This document is meant for sophisticated investors only. All information contained herein is confidential and is provided solely for internal use of intended recipient(s). The information in this document may not be reproduced, distributed or published by any recipient. The information contained herein has been derived from sources believed to be reliable and is current as at the publication date. Neither Principal Islamic Asset Management Sdn Bhd, nor any of its officers, directors or employees accept any liability or responsibility in respect to the information or any recommendation expressed herein as no representation or warranty is made as to its accuracy, completeness or correctness of the information provided. The information in this document is subject to change without notice. Persons wishing to rely upon this information should perform their own independent evaluation of risks and benefits or consult directly with the source of information or obtain professional advice where appropriate. The value of the investment may rise or fall. Past performance is not reflective of future results.