This block is broken or missing. You may be missing content or you might need to enable the original module.
Global Sukuk Snapshot: Nov 2020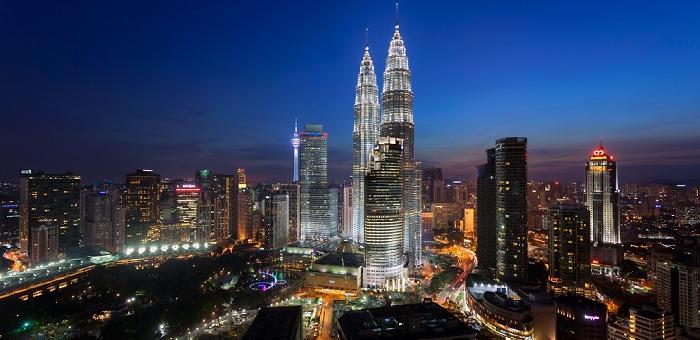 Global Market Commentary
In November 2020, the 10-year United States ("US") Treasury ("UST") yields started the month on a shaky footing as investors switched between risk-on and risk-off modes amid uncertainties surrounding the US presidential elections, as well as positive vaccine development news. However, UST yields subsequently trended lower, as investors shifted their focus to escalating Coronavirus disease 2019 cases in the US and Europe, which continue to weigh on economic growth prospects. During the month, UST yields plunged by 1-9 basis points ("bps") across the board and led by the longest 30-year tenure, causing the yield curve to shift slightly lower and bull flatten. Month-on-month ("M-o-m"), the benchmark 10-year UST yields closed the month 4bps lower from 0.87% at end-October 2020 to 0.83% at end-November 2020. Meanwhile, Brent crude oil price recovered from previous month's losses, posting handsome gains of 27.70% m-o-m from $37.45/barrel ("bbl") at end-October 2020 to $47.84/bbl, driven by positive vaccine development news.
Meanwhile on the demand side, China remains a bright spot for global demand, with authorities raising the quota for use of foreign oil by non state entities by more than 20.00% for 2021. As the first major country to rebound from the pandemic, China's economic recovery is expected to outpace other countries. In October 2020, China's retail sales jumped from 3.30% in September 2020 to 4.30% year-on-year, as consumers grow more confident about spending as Covid-19 infections are largely under control. On 25 November 2020, Moody's upgraded Saudi Electricity Co credit rating from A2 to A1. The rating upgrade reflects Moody's revised assumption of government support from "High" to "Very High", under the methodology for Government-Related Issuers, in which a proposed new regulatory framework by the government is set to be implemented on 1 January 2021.
Sukuk News
The Indonesian government has raised IDR12.35 trillion ($841.49 million) from a sovereign Shariah securities auction on the 27 October 2020 featuring five reopenings. According to a statement, the auction generated IDR20.9 trillion ($1.42 billion) in bids. The Shariah securities have maturity dates ranging from the 4 April 2021 to the 5 October 2046.
Dubai Islamic Bank ("DIB") has issued a $1 billion perpetual additional Tier 1 Sukuk with a profit rate of 4.63%, the lowest-ever yield achieved by any bank globally on an additional Tier 1 Sukuk issuance. According to a statement from the bank, the Sukuk issuance, which was oversubscribed 5.7 times with over $5.5 billion in orders, is also the only additional Tier 1 Sukuk to come out of the Gulf Cooperation Council region in 2020. DIB, Emirates NBD Capital, First Abu Dhabi Bank, HSBC, Sharjah Islamic Bank and Standard Chartered arranged the transaction.
Source: Bloomberg, Islamic Finance News, Reuters (as at 30 November 2020)
Data shown is in US Dollar unless otherwise noted.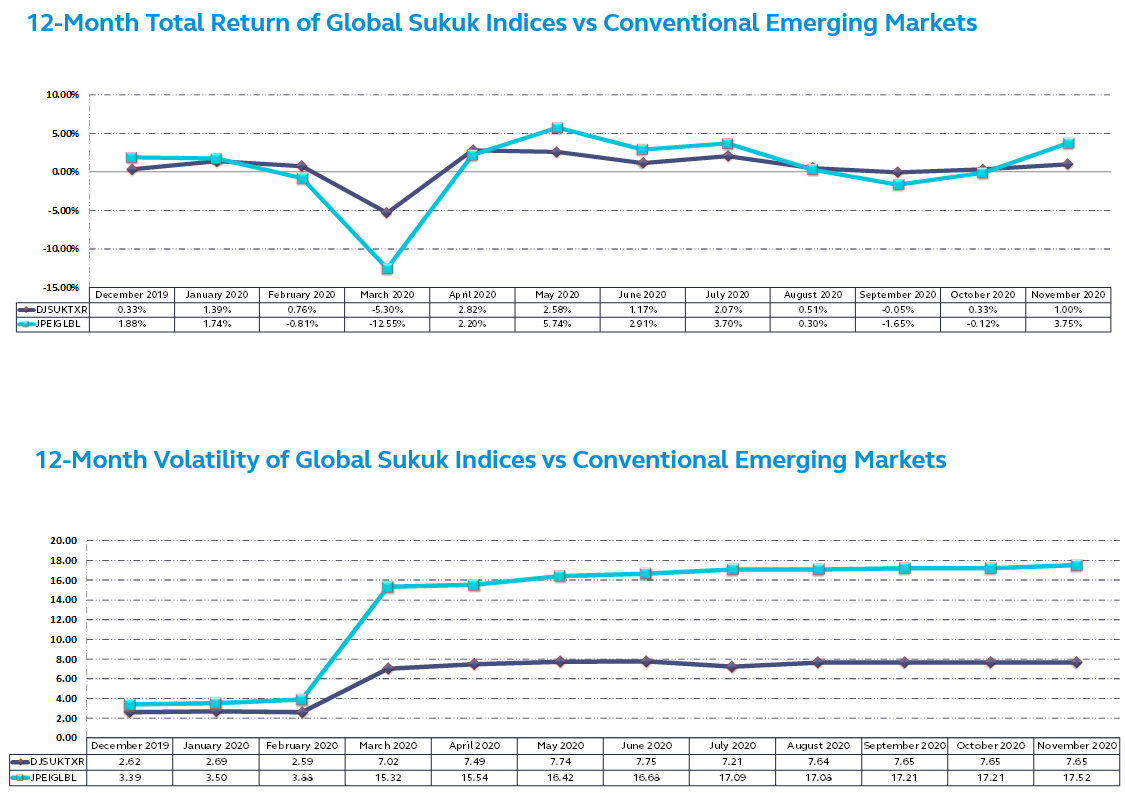 DJSUKTXR | Dow Jones Sukuk Index
JPEIGLBL | JP Morgan EMBI Global Total Return Index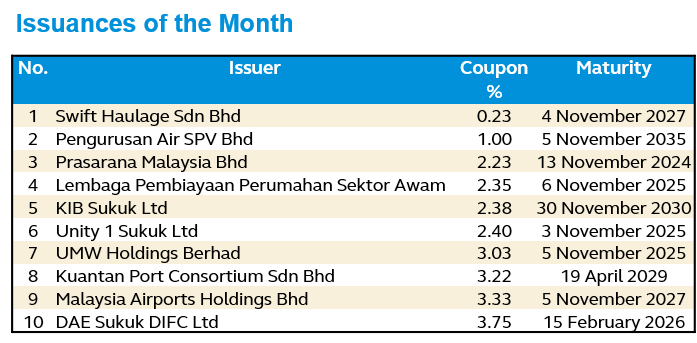 Source: Bloomberg as at 30 November 2020

Disclaimer:
This document is provided to you with information only and should not be construed as an offer or a solicitation of an offer to purchase or subscribe or sell any security, product, service or investment, nor does it constitute investment advice and is not intended for distribution, or used by any person in any country where the investment service referred to is not authorized or which the dissemination of such information is contrary to law and regulation of the country. This document is meant for sophisticated investors only. All information contained herein is confidential and is provided solely for internal use of intended recipient(s). The information in this document may not be reproduced, distributed or published by any recipient. The information contained herein has been derived from sources believed to be reliable and is current as at the publication date. Neither Principal Islamic Asset Management Sdn Bhd, nor any of its officers, directors or employees accept any liability or responsibility in respect to the information or any recommendation expressed herein as no representation or warranty is made as to its accuracy, completeness or correctness of the information provided. The information in this document is subject to change without notice. Persons wishing to rely upon this information should perform their own independent evaluation of risks and benefits or consult directly with the source of information or obtain professional advice where appropriate. The value of the investment may rise or fall. Past performance is not reflective of future results.