This block is broken or missing. You may be missing content or you might need to enable the original module.
Global Sukuk Snapshot: Sept 2020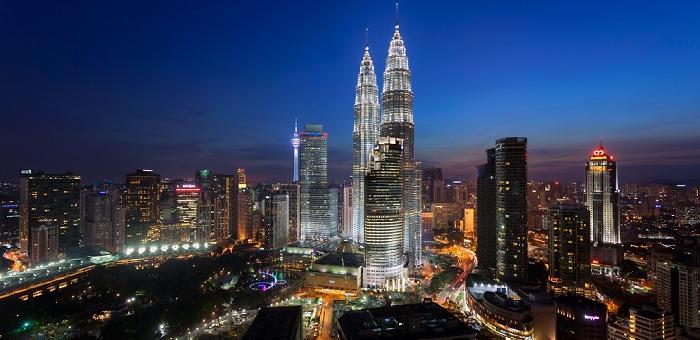 Global Market Commentary
United States ("US") Treasuries ("UST") traded sideways in September 2020 with 10-year yields edging 2 basis points ("bps") lower from 0.70% at end August 2020 to 0.68% by the end of September 2020. 10-year UST rallied 8bps lower to 0.62% in the early part of the month following a sell down in US equity technology sectors which saw the National Association of Securities Dealers Automated Quotations ("NASDAQ") dropped 10.00% due to concerns of an overbought market. Nevertheless, UST yields corrected back up to 0.70% level after the US employment numbers continued to show strong recovery, adding 1.37 million jobs in August 2020. US unemployment rate declined from 10.20% to 8.40%. Demand for safe-haven assets remain well-supported as the US Federal Reserve stated that they would maintain interest rates at near zero level until there is evidence of a tighter labor market and inflation runs moderately above the 2.00% level for some time, to support the labor market and broader economy.
Meanwhile, Brent crude oil prices declined 10.60% month-on-month from $45.81/barrel ("bbl") at end-August 2020 to $40.95/bbl at end-September as optimism about oil demand recovery cooled down amidst a resurgence of new Covid-19 cases in India and across Europe. During the month, there was a healthy number of global sukuk issuances coming into the market. Saudi Electricity Co. issued two tranches of 5-year and 10-year sukuk with a total issuance size of $1.3 billion at yields of 1.74% and 2.41% respectively. The Kingdom of Bahrain issued $1.0 billion in 7- year sukuk as well as a $1.0 billion 12-year conventional fixed income during the month and were 3.8 times oversubscribed with buying profit mostly skewed towards the sukuk issuance. The Government of Dubai issued $1.0 billion in 10-year sukuk and $1.0 billion in 30-year conventional fixed income with combined final orderbook of $10 billion. The 10-year sukuk saw an over subscription rate of 6.6 times. Meanwhile, Emirates Islamic Bank also issued a $500 million 5-year sukuk during the month.
Sukuk News
NASDAQ Dubai has announced in a statement that it has removed International Finance Corporation Sukuk Company's $100 million Sukuk facility due in 2020 from trading on the exchange, following the delisting of the facility from the official list of securities of the Dubai Financial Services Authority effective 20 September 2020 after the complete and final redemption of the facility on 15 September 2020.
Point Zone has issued a MYR100 million ($24.29 million) Islamic medium-term note on 21 September 2020, structured under the Murabahah concept, according to a filing on the Bond and Sukuk Information Exchange. The unrated Sukuk facility arranged by Affin Investment Bank has a tenor of four years and a profit rate of 4.15%.
Source: Bloomberg, Islamic Finance News, Reuters (as at 30 September 2020)
Data shown is in US Dollar unless otherwise noted.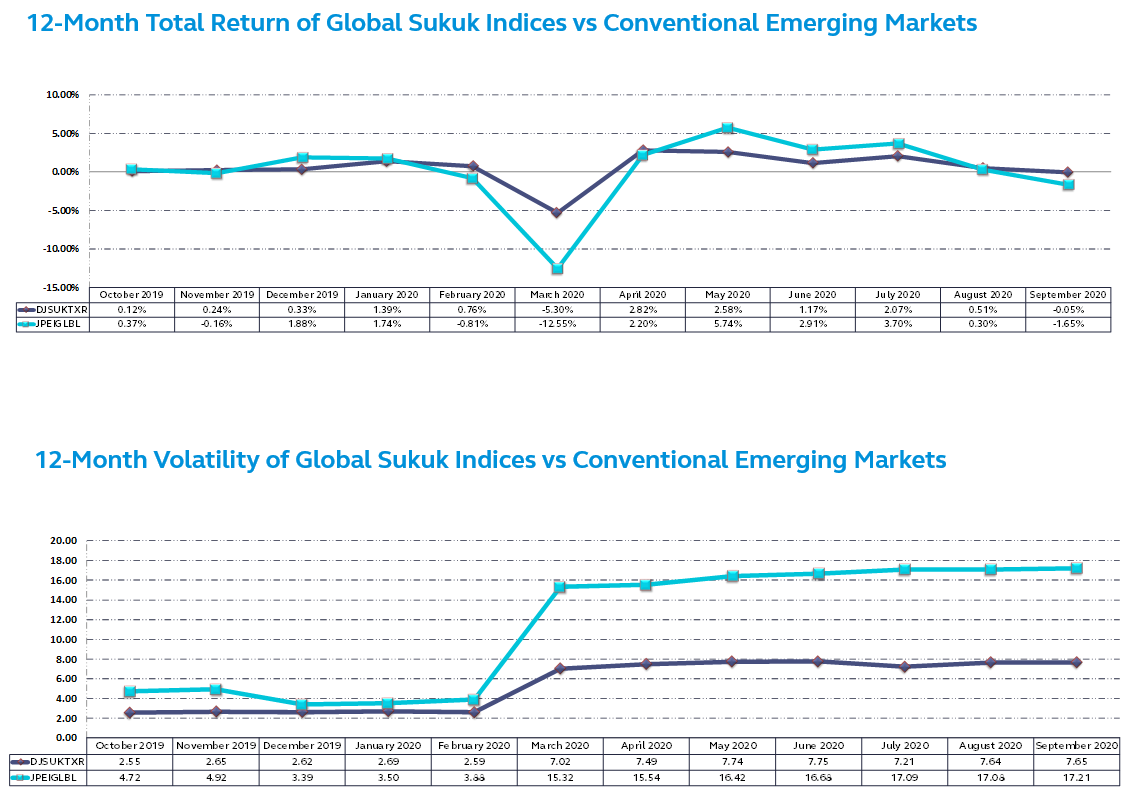 DJSUKTXR | Dow Jones Sukuk Index
JPEIGLBL | JP Morgan EMBI Global Total Return Index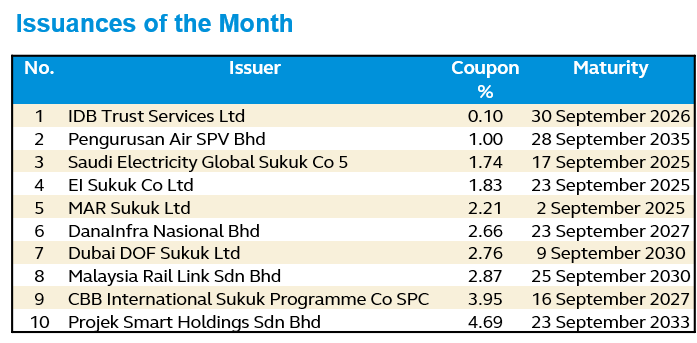 Source: Bloomberg as at 30 September 2020

Disclaimer:
This document is provided to you with information only and should not be construed as an offer or a solicitation of an offer to purchase or subscribe or sell any security, product, service or investment, nor does it constitute investment advice and is not intended for distribution, or used by any person in any country where the investment service referred to is not authorized or which the dissemination of such information is contrary to law and regulation of the country. This document is meant for sophisticated investors only. All information contained herein is confidential and is provided solely for internal use of intended recipient(s). The information in this document may not be reproduced, distributed or published by any recipient. The information contained herein has been derived from sources believed to be reliable and is current as at the publication date. Neither Principal Islamic Asset Management Sdn Bhd, nor any of its officers, directors or employees accept any liability or responsibility in respect to the information or any recommendation expressed herein as no representation or warranty is made as to its accuracy, completeness or correctness of the information provided. The information in this document is subject to change without notice. Persons wishing to rely upon this information should perform their own independent evaluation of risks and benefits or consult directly with the source of information or obtain professional advice where appropriate. The value of the investment may rise or fall. Past performance is not reflective of future results.