This block is broken or missing. You may be missing content or you might need to enable the original module.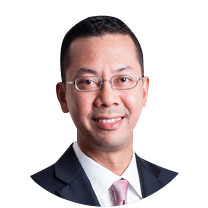 Effendy Shahul Hamid, Non-Independent Non-Executive Director
Effendy is CEO of CIMB Digital Assets, where he is responsible for the management and operations of all of CIMB Group's strategic digital investments. This includes managing the Group's strategic investments in the Touch 'n Go franchise and CIMB's digital bank operations in Philippines and Vietnam. He is also Group CEO of Touch n' Go Group, where he manages Malaysia's fastest growing financial technology enterprise.
Most recently, Effendy was CEO of Group Ventures and Partnerships at CIMB Group, where he was responsible for the development of the Group's new and disruptive revenue and value creation streams through a focus on creating and cultivating new-age partnerships at scale, venturing through selective strategic investments in platform based and managing the Group's digital bank operations. At that same time, he was also responsible for CIMB Group's asset management and investments business across both public and private markets, including the Group's regional asset management business, its private equity fund management business and the Group's equity investments portfolio.
Prior to that, Effendy was CEO, Group Commercial Banking at CIMB Group, managing the Group's regional banking businesses for the small and medium enterprise and mid sized corporate segment, with a key lean on creating differentiated propositions and executing long term growth strategies. Prior to that, he was Group Chief Marketing and Communications Officer, managing CIMB Group's entire marketing and communications initiatives and led franchise-wide efforts to ensure a consistent and differentiated CIMB brand for all of the Group's businesses across the region. Before that, he served as a Director in the Group's Investment Banking Division, primarily focusing on corporate advisory and origination.
Prior to joining CIMB Group in 2004, Effendy spent the early years of his career in several international companies in a corporate development capacity, mostly involved in private equity, merger and acquisition activities across Asia Pacific, and general business expansion initiatives.
Effendy's Board responsibilities include serving as Chairman of CIMB Vietnam and TNG Digital. He also serves on the Boards of Touch 'n Go, Financial Park Labuan, Principal Asset Management and Principal Islamic Asset Management. He is also a member of the Board of the International School of Kuala Lumpur.
Qualification:
BEng (Hons) Electronic Engineering with Optoelectronics, University College London; CIMB-INSEAD Leadership Programme, INSEAD; Digital Business Leadership Programme, Columbia Business School.