Global Sukuk Snapshot: Aug 2022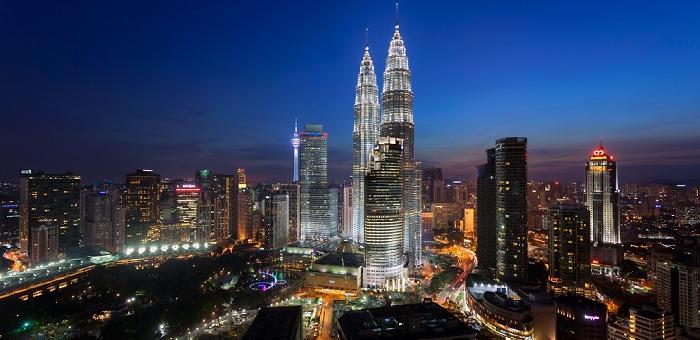 Global Market Commentary
In early August, 10-year US Treasury ("UST") yields initially fell from 2.65% at end-July to touch 2.51%, as weak US economic data moderated rate hike expectations. In July, US Institute for Supply Management ("ISM") manufacturing dipped from 53.0 in June to 52.8, the slowest since June 2020; while US ISM prices paid fell to the lowest level since August 2020 as supply chain disruptions abated. However, yields edged higher after the US economy added 528,000 new jobs in July, the largest in five months and more than double consensus expectations of 250,000 (June revised higher from 372,000 to 398,000). Furthermore, US ISM services gained from 55.3 in June to 56.7 in July (consensus 53.5), as consumers shift their spending from goods to services. Meanwhile, US headline Consumer Price Index fell sharply from 9.1% in June to 8.5% in July (consensus 8.7%), driven by a decline in fuel prices. Despite this, UST yields continued to drift higher towards the 3.00% mark amid a chorus of hawkish remarks from US Federal Reserve ("Fed") officials, who emphasized that the central bank still has a long way to go before it can declare victory on inflation. Sentiment was also dented by rising UK and European bond yields, as inflation continued to hit multi-year highs. Towards month-end, 10-year UST yields rose further to close the month at 3.19% (54 basis point ("bps") higher month-on-month ("m-o-m")), after US Fed Chairman Jerome Powell squashed market expectations for a dovish Fed pivot at the Jackson Hole economic symposium. Powell said the US Fed may need to maintain a restrictive policy stance for some time to avoid inflation from becoming entrenched; and added that historical record cautions strongly against prematurely loosening policy, even if growth slows. The US 2Q22 Gross Domestic Product was revised higher from -0.9% to -0.6%, lifted by stronger personal consumption than previously estimated (revised up from 1.0% to 1.5%).
Meanwhile, Brent crude oil continued to fluctuate in August, with prices trading within a wide range of $91-105/barrel ("bbl") (m-o-m 12.3% lower from $110.01/bbl at end-July to $96.49/bbl at end-August). Overall, sentiment continued to be dampened by prospects of slower global growth as global central banks tighten monetary policy. On 22 August, Saudi Energy Minister said Organisation of the Petroleum Exporting Countries Plus ("OPEC+") may consider tightening production at its next meeting in September, as prices do not reflect the underlying fundamentals of supply and demand.

Sukuk News
The Securities Commission Malaysia has expanded the Sustainable and Responsible Investment ("SRI") Sukuk and Bond Grant Scheme to include SRI-linked Sukuk issued under the SRI-linked Sukuk Framework introduced in June 2022, a statement confirmed. The expansion of the scheme will allow SRI-linked Sukuk issuers to offset up to 90% of the external review costs incurred, subject to a maximum of MYR300,000 ($66,794.7) per issuance.
Saudi Arabia's National Debt Management Center and Ministry of Finance have signed a Memorandum of Understanding ("MoU") with SNB Capital to develop and launch individual savings Sukuk, a statement confirmed.
The individual savings Sukuk aim to motivate individuals to design better plans for the future and promote strategic partnerships with the private sector. The MoU is a part of the ongoing work under the Financial Sector Development Program to promote and enable financial planning.

Source: Reuters, Islamic Finance News (as of 31 August 2022)
Data shown is in US Dollar unless otherwise noted.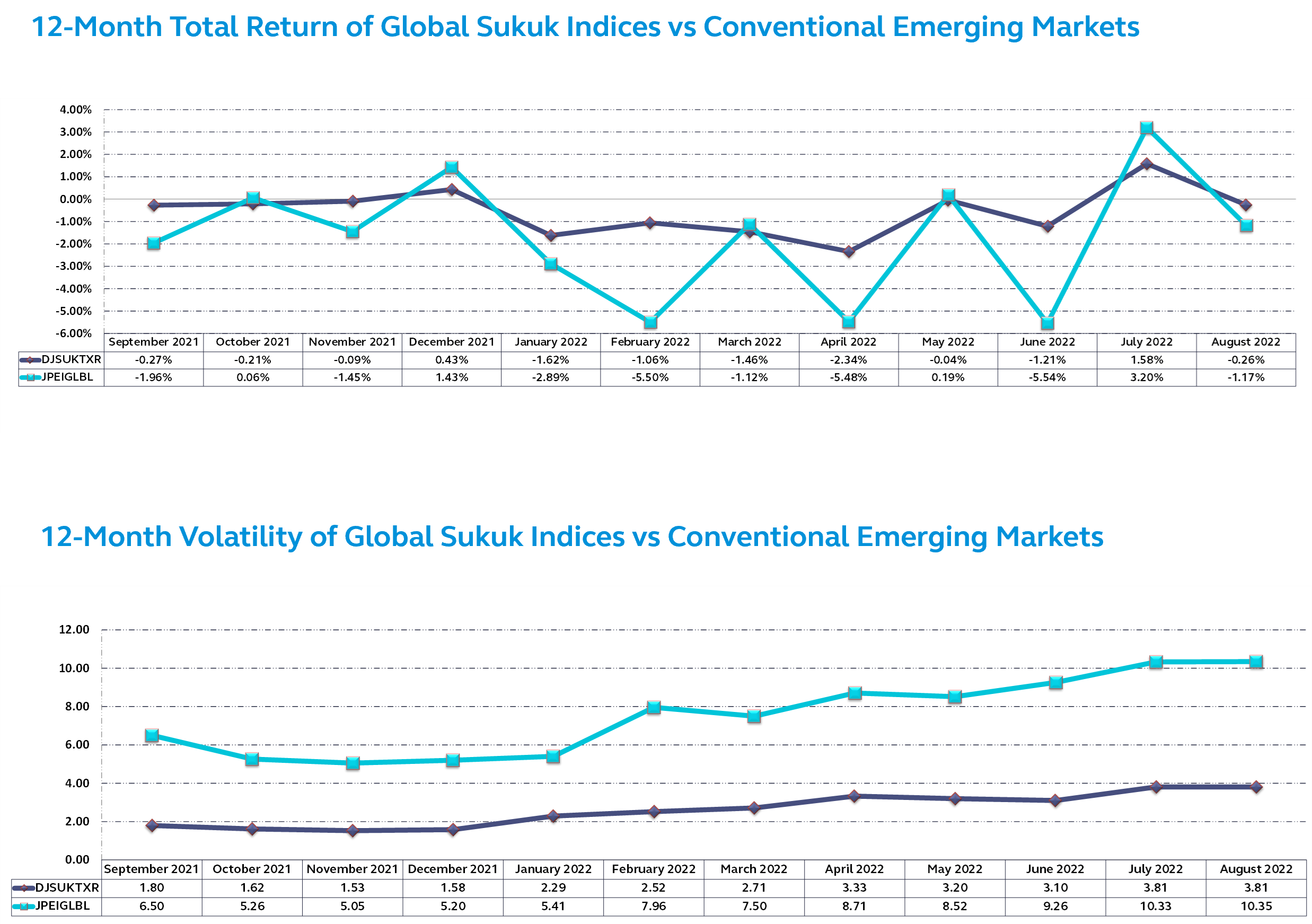 DJSUKTXR | Dow Jones Sukuk Index
JPEIGLBL | JP Morgan EMBI Global Total Return Index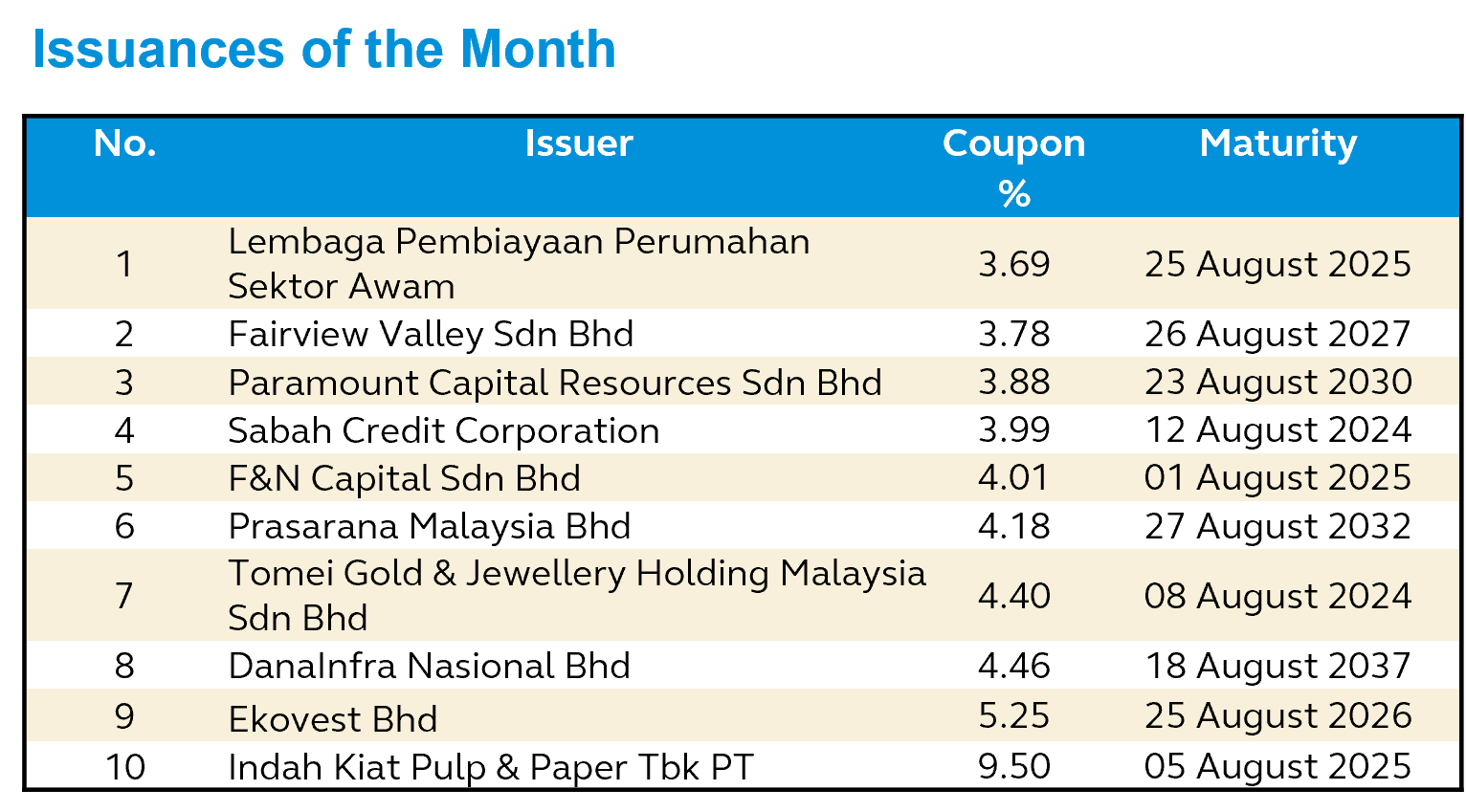 Source: Bloomberg as at 31 August 2022
Disclaimer:
This document is provided to you with information only and should not be construed as an offer or a solicitation of an offer to purchase or subscribe or sell any security, product, service or investment, nor does it constitute investment advice and is not intended for distribution, or used by any person in any country where the investment service referred to is not authorized or which the dissemination of such information is contrary to law and regulation of the country. This document is meant for sophisticated investors only. All information contained herein is confidential and is provided solely for internal use of intended recipient(s). The information in this document may not be reproduced, distributed or published by any recipient. The information contained herein has been derived from sources believed to be reliable and is current as at the publication date. Neither Principal Islamic Asset Management Sdn Bhd, nor any of its officers, directors or employees accept any liability or responsibility in respect to the information or any recommendation expressed herein as no representation or warranty is made as to its accuracy, completeness or correctness of the information provided. The information in this document is subject to change without notice. Persons wishing to rely upon this information should perform their own independent evaluation of risks and benefits or consult directly with the source of information or obtain professional advice where appropriate. The value of the investment may rise or fall. Past performance is not reflective of future results.