Global Sukuk Snapshot: Nov 2022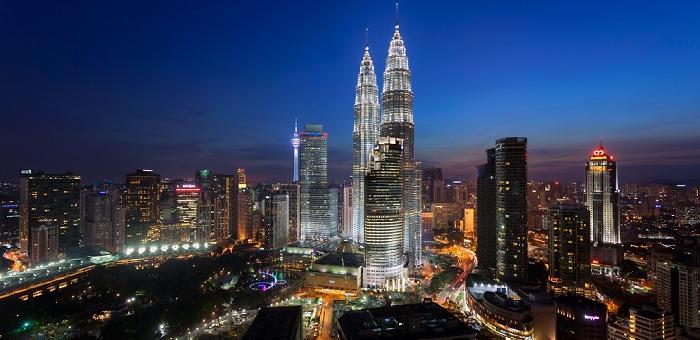 Global Market Commentary
As widely expected, the US Federal Reserve ("Fed") raised rates by 75 basis point ("bps") for the fourth consecutive time on 2 November, taking the Fed Funds Rate to 3.75-4.00%. Even though US Fed Chairman Jerome signaled a slower path of rate hikes going forward, he warned that the peak Fed Funds Rate may be higher than the dot plots in September (median rate of 4.6% in 2023). Powell's remarks pressured 10-year US Treasury ("UST") yields higher to touch 4.24% on 8 November, despite mixed US economic data. In October, the US economy added 261,000 new jobs, higher than consensus estimates of 193,000 (September revised up from 263,000 to 315,000). Average wages continued to rise from 0.3% to 0.4% month-on-month ("m-o-m"), albeit dipping from 5.0% to 4.7% year-on-year ("y-o-y"). Meanwhile, US Institute for Supply Management ("ISM") manufacturing slowed from 50.9 in September to 50.2 in October, while ISM services plunged from 56.7 to 54.4 (consensus: 55.3), the lowest since May 2020. Nevertheless, 10-year UST yields plummeted to around 3.80% after US Consumer Price Index ("CPI") cooled in October, fueling expectations that the US Fed may start slowing the pace of rate hikes soon. In October, headline CPI slowed from 8.2% in September to 7.7% y-o-y (consensus 7.9%), while core CPI moderated from 6.6% to 6.3% (consensus 6.5%). Towards month-end, 10-year UST yields continued to fall to around 3.63%, before paring gains to 3.80% as hawkish remarks from several Fed members e.g. James Bullard and John Williams tempered sentiment. Nevertheless, 10-year yields fell again to close the month at 3.61% (m-o-m 44bps lower), after Chairman Powell confirmed that slower rate hikes may begin as early as December.
Meanwhile, Brent oil prices fell 9.9% m-o-m from $94.83/barrel ("bbl") at end-October to $85.43/bbl, as weaker global economic data solidified expectations of slower demand for oil going forward. Furthermore, a recent surge in new Covid-19 cases in China dashed hopes that the Chinese government will ease its strict zero-Covid policy. Sentiment was also dampened after the US Energy Information Administration (EIA) cut its 2023 global oil demand growth by 320,000 barrel per day ("bpd") to 100.98 mil bpd, and ahead of the European Union's proposed plan to set a price cap to Russian oil. Nevertheless in early December, China announced a broad rollback of its strict Covid-19 rules, which may drive oil prices higher going forward.

Sukuk News
The government of Indonesia will offer retail green Sukuk series ST009 to individual investors online beginning on the 11 November and closing on the 30 November 2022, for a minimum order of IDR1 million ($60) and a maximum order of IDR2 billion ($120,000). The Sukuk series has a tenor of two years and a floating coupon rate, said an official statement.
Source: Bloomberg, Islamic Finance News, Reuters (as of 30 November 2022)
Data shown is in US Dollar unless otherwise noted.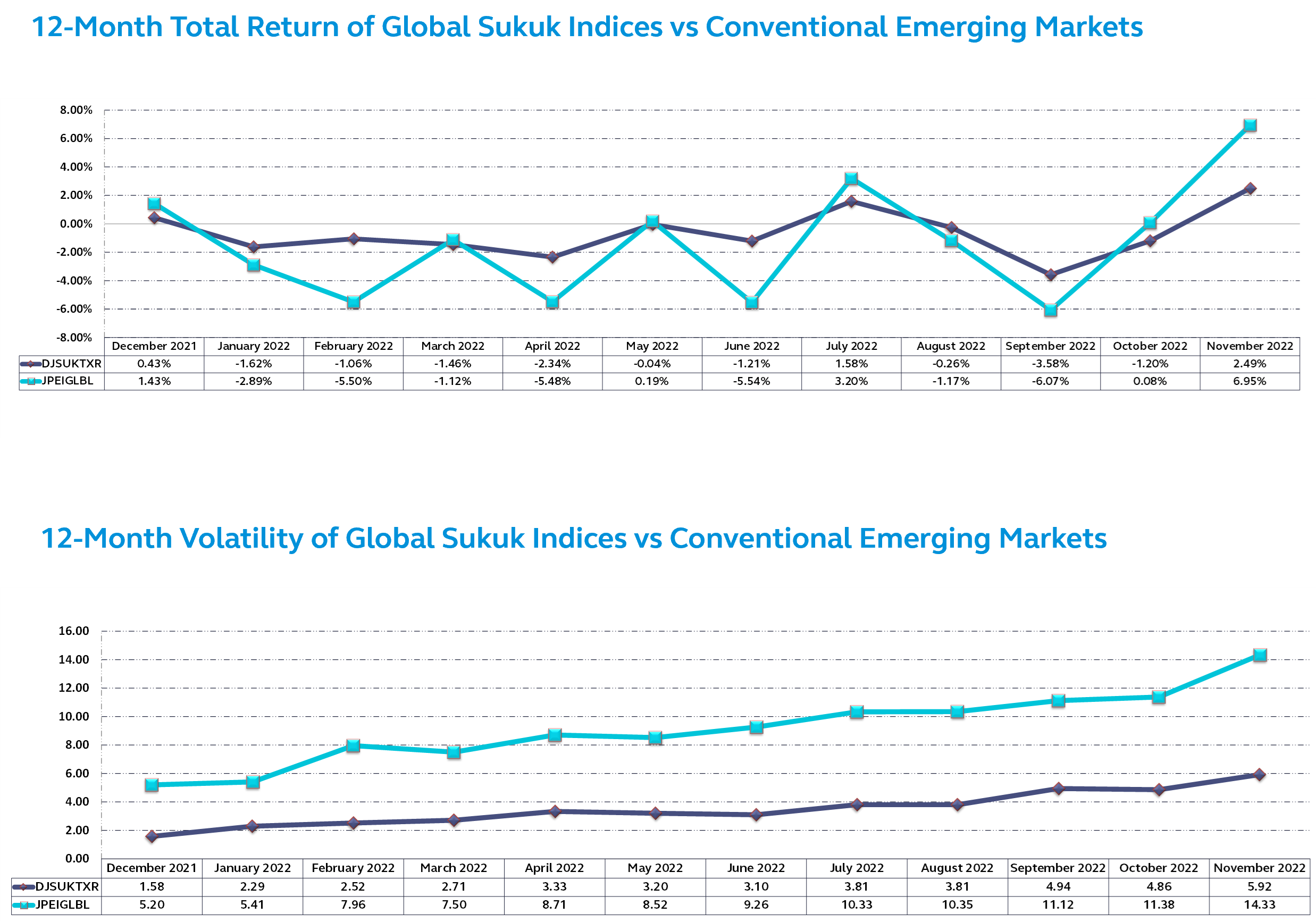 DJSUKTXR | Dow Jones Sukuk Index
JPEIGLBL | JP Morgan EMBI Global Total Return Index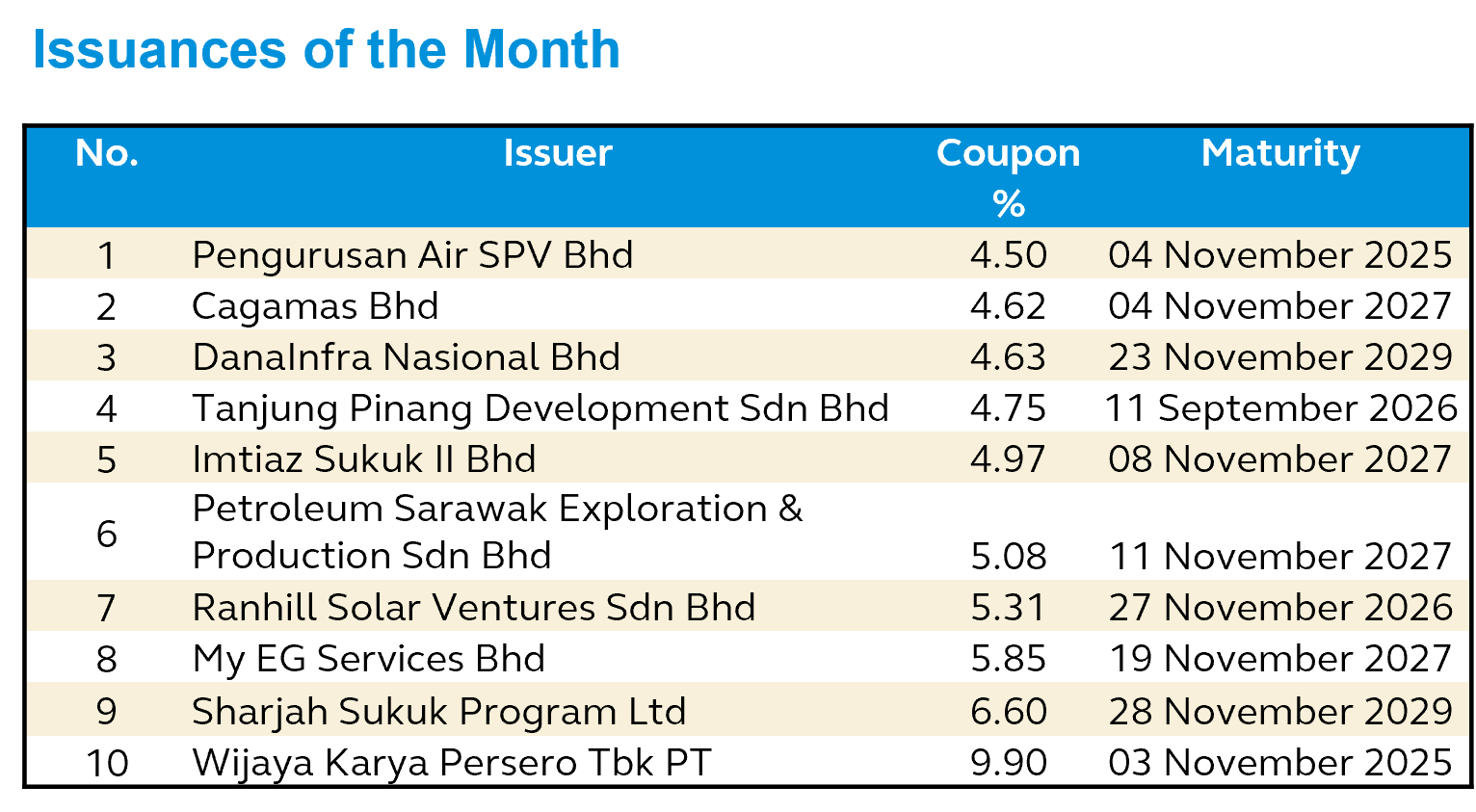 Source: Bloomberg as at 30 November 2022

Disclaimer:
This document is provided to you with information only and should not be construed as an offer or a solicitation of an offer to purchase or subscribe or sell any security, product, service or investment, nor does it constitute investment advice and is not intended for distribution, or used by any person in any country where the investment service referred to is not authorized or which the dissemination of such information is contrary to law and regulation of the country. This document is meant for sophisticated investors only. All information contained herein is confidential and is provided solely for internal use of intended recipient(s). The information in this document may not be reproduced, distributed or published by any recipient. The information contained herein has been derived from sources believed to be reliable and is current as at the publication date. Neither Principal Islamic Asset Management Sdn Bhd, nor any of its officers, directors or employees accept any liability or responsibility in respect to the information or any recommendation expressed herein as no representation or warranty is made as to its accuracy, completeness or correctness of the information provided. The information in this document is subject to change without notice. Persons wishing to rely upon this information should perform their own independent evaluation of risks and benefits or consult directly with the source of information or obtain professional advice where appropriate. The value of the investment may rise or fall. Past performance is not reflective of future results.