Global Sukuk Snapshot: Sept 2022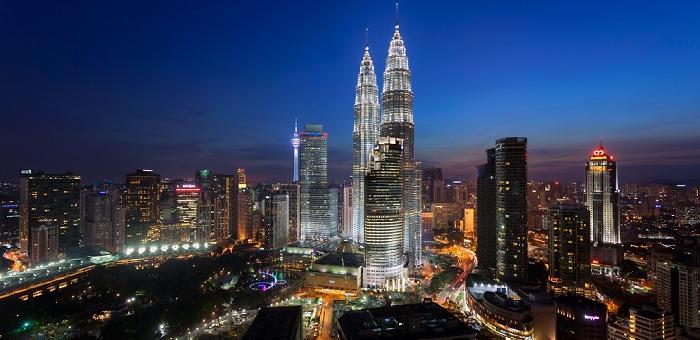 Global Market Commentary
During the month, 10-year US Treasury ("UST") yields drifted higher as investors digested US Federal Reserve ("Fed") Chairman Jerome Powell's hawkish remarks at the Jackson Hole economic symposium in late August. Moreover, US economic indicators continued to show strength, indicating resilience in a rising interest rate environment. In August, the US Institute for Supply Management ("ISM") manufacturing index remained firm at 52.8 (consensus 51.9), while ISM services expanded slightly from 56.7 to 56.9 (consensus 55.3). The US economy added 315,000 new jobs in August, beating consensus expectations of 298,000 (July revised slightly lower from 528,000 to 526,000); while average hourly earnings moderated from 0.5% to 0.3% month-on-month ("m-o-m") (year-on-year ("y-o-y") flat at 5.2%). 10-year UST yields continued to rise from 3.19% at end-August to around 3.45% in mid-September, after US core Consumer Price Index unexpectedly rose from 0.3% in July to 0.6% m-o-m in August y-o-y up from 5.9% to 6.3%), as shelter, food and medical care prices remain high despite lower gasoline prices. On 21 September, the US Fed delivered its third consecutive 75 basis point ("bps") hike to 3.00-3.25%, and emphasized that it will keep raising rates until inflation is under control, driving UST yields higher. In its updated quarterly projections, the central bank now expects to raise rates to a median rate of 4.4% in 2022 (June 3.4%) and 4.6% in 2023 (June 3.8%), before cutting it to 3.9% in 2024. The Fed also slashed its 2022 Gross Domestic Product forecast from 1.7% in June to just 0.2%, and from 1.7% to 1.2% for 2023. Meanwhile, Personal Consumption Expenditures inflation projections were revised slightly higher to 5.4% for 2022 and 2.8% for 2023. Towards month-end, sentiment was further dented by a sharp rise in UK government bond yields, after the new UK government announced historic tax cuts and fiscal measures. During the month, 10-year UST yields jumped from 3.19% at end-August to touch 4.02% on 28 September (highest since 2008), before rebounding to close the month at 3.83% (m-o-m 64bps higher).
Meanwhile, Brent oil prices declined by 8.8% from $96.49/barrel ("bbl") at end-August to $87.96/bbl at end-September, as concerted rate hikes from major central banks amplified concerns over a potential global economic slowdown. According to reports, Organisation of the Petroleum Exporting Countries Plus ("OPEC+") is considering cutting oil output by 2 million barrel per day at its upcoming meeting on 5 October, which may boost oil prices.

Sukuk News
In 2021, Sukuk issuances amounted to $188 billion, up 7.42% from $175 billion in 2020, according to International Islamic Financial Market (IIFM)'s latest annual Sukuk report.
International issuances accounted for a quarter of total offerings, with Malaysia (41%), Saudi Arabia (22%), Indonesia (12.4%) and Turkiye (9.5%) commanding 88.5% of total issuances. According to IIFM, 12,778 Sukuk worth $1.6 trillion were issued in the last two decades, with Malaysia accounting for two-thirds of the offerings.
Source: Bloomberg, Islamic Finance News, Reuters (as of 31 September 2022)
Data shown is in US Dollar unless otherwise noted.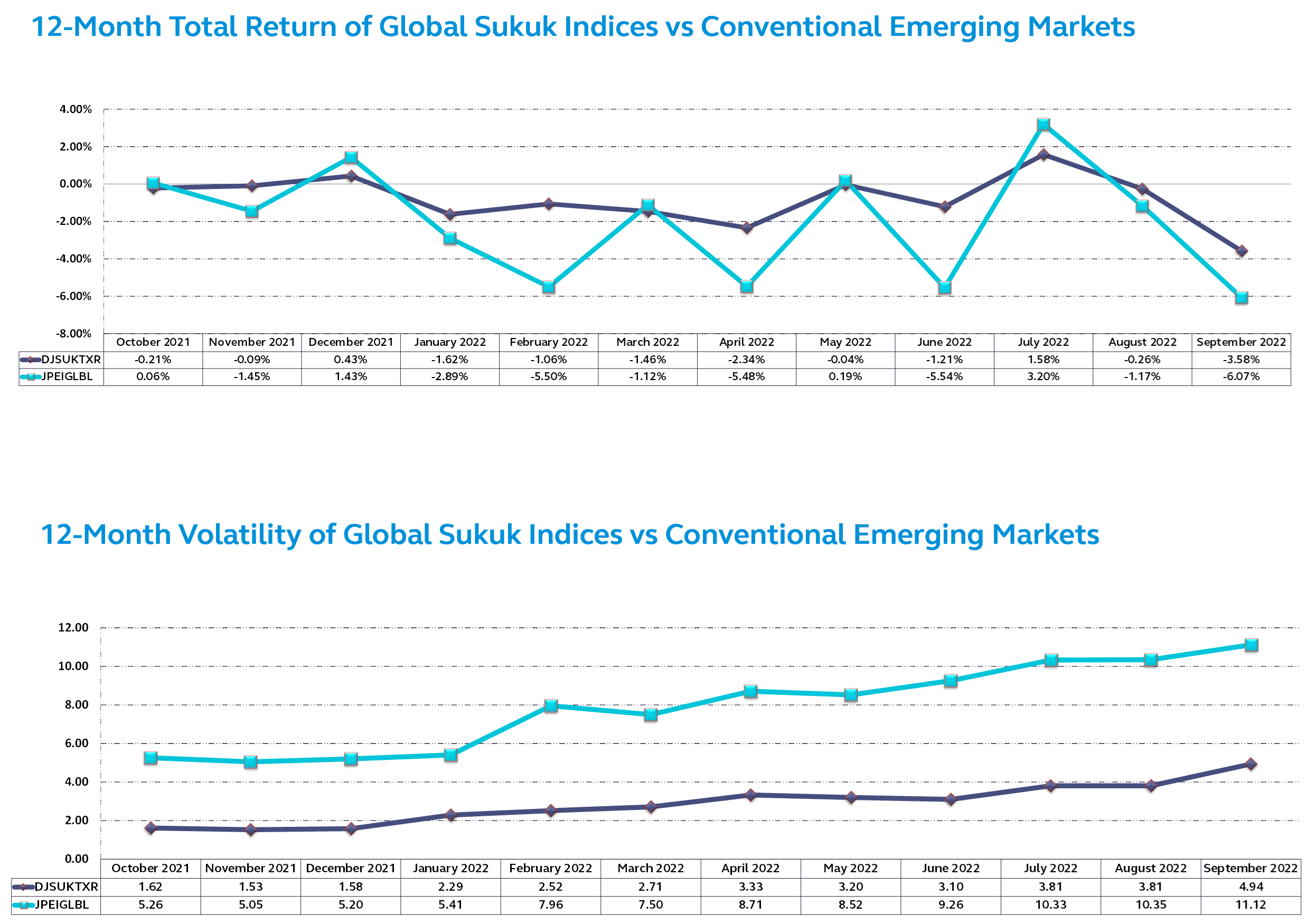 DJSUKTXR | Dow Jones Sukuk Index
JPEIGLBL | JP Morgan EMBI Global Total Return Index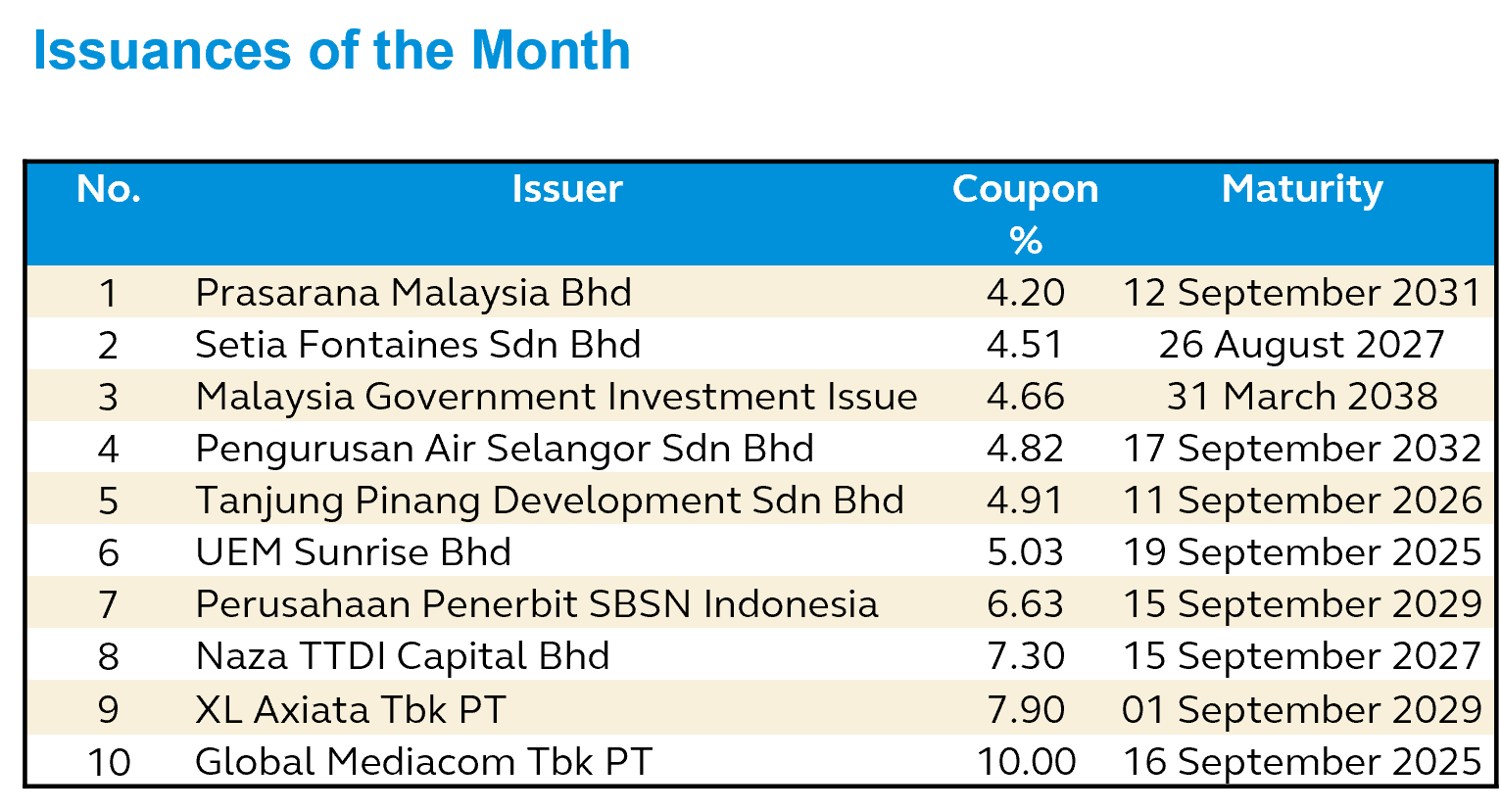 Source: Bloomberg as at 31 September 2022
Disclaimer:
This document is provided to you with information only and should not be construed as an offer or a solicitation of an offer to purchase or subscribe or sell any security, product, service or investment, nor does it constitute investment advice and is not intended for distribution, or used by any person in any country where the investment service referred to is not authorized or which the dissemination of such information is contrary to law and regulation of the country. This document is meant for sophisticated investors only. All information contained herein is confidential and is provided solely for internal use of intended recipient(s). The information in this document may not be reproduced, distributed or published by any recipient. The information contained herein has been derived from sources believed to be reliable and is current as at the publication date. Neither Principal Islamic Asset Management Sdn Bhd, nor any of its officers, directors or employees accept any liability or responsibility in respect to the information or any recommendation expressed herein as no representation or warranty is made as to its accuracy, completeness or correctness of the information provided. The information in this document is subject to change without notice. Persons wishing to rely upon this information should perform their own independent evaluation of risks and benefits or consult directly with the source of information or obtain professional advice where appropriate. The value of the investment may rise or fall. Past performance is not reflective of future results.