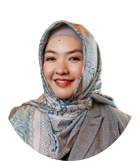 Munirah Khairuddin, Non-Independent Executive Director
Munirah joined Principal Asset Management Berhad ("PAM") in November 2006 and was appointed as Deputy CEO in November 2008. She has been an Executive Director since 31 January 2012 and took on the role as CEO as well since 21 August 2013. Currently, Munirah also holds the position as Country Head, Malaysia. She previously worked as a G7 Economist and strategist for a Fortune 500 multinational oil and gas company. Prior to that, she was a fixed income portfolio manager for emerging markets at Rothschild Asset Management in London.
Apart from her Senior Management role, she has been instrumental in helping PAM to grow its asset under management, both in retail as well as Institutional and Corporate business. In retail, she has deepened PAM's market share and leadership with new focus and success in digital business, banking distribution for the masses and high net worth individuals and agency distribution. In retirement sector, she has significantly contributed to forming and growing the voluntary pension through Private Retirement Scheme ("PRS") and deep investment management contribution to Institutional clients. In the Corporate space, she has grown the investment management business substantially with a breadth of clients such as Insurance, corporate treasury clients as well as medium sized companies. Under her ambit, PAM has also acquired a niche international client base, listed exchange traded funds ("ETF") in Malaysia and Singapore, developed products for regional distribution and spearheaded ESG and sustainability efforts in investment management.
Munirah was named the CEO of the Year, Malaysia in the Asia Asset Management's 2015 Best of the Best Awards for the second year in a row. She was also selected as one of the recipients for the "Top 25 Women of Asset Management" award by AsianInvestor in 2014.
Munirah currently sits on the Hong Kong Board of Principal Investment and Retirement Services Limited and serves as an Executive Director of Principal Islamic Asset Management Sdn Bhd as well. Her other involvement includes being a Council Board Member of the Institutional Investors Council Malaysia and Board member of the Malaysian Association of Asset Managers ("MAAM") where she was elected to the office as the Secretary.
Qualification:
Munirah is a Chartered Financial Analyst charter holder and holds the Capital Markets Services Representative's License for fund management. She graduated with a Bachelor of Arts (Honours) in Accounting & Financial Analysis, University of Newcastle Upon Tyne, United Kingdom. She also attended the CIMB-INSEAD Leadership Programme and the University of Wharton Executive Education.